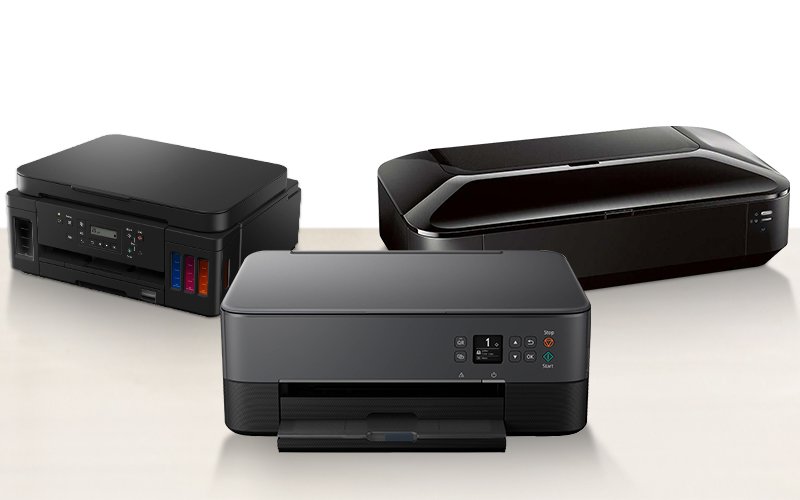 Brother, HP and Canon are the three giants in the printer industry. Today we want to talk about Canon printers.
Canon has a variety of printer series. The most common ones in the market are MAXIFY and PIXMA series. PIXMA series may be Canon's most popular product line. Let's see why it can become our best choice!
5 reasons to pick up PIXMA series printers
For a printer user, a good printer can save you time and money, bring you high work efficiency and solve all your problems. Let's take a look at the advantages of PIXMA series printers:
Applicable to a wide range of people
It has a variety of series, which can meet the needs of different user groups such as families, students even photographers.
PIXMA iP series: Print only but it's portable. It is suitable for users who do not need other functions except printing. It is also a reliable choice for users with a limited budget. It use with a black and a tri-color ink cartridges, you only need to buy 2 ink cartridges instead of 4 ink cartridges, which can your cost. But the disadvantage is also obvious. When one of the colors runs out, you must replace the whole color ink cartridge.
PIXMA MG/MX/TR/TS series: They are All-in-One printers. This series can provide you with print, copy, scan and fax functions. some of these series printers use black and tri-color ink cartridges, but others use black and individual color ink cartridges. If you have requirements for printing speed, TS and TR series will be your best choice, which can provide you with extremely high printing speed.
PIXMA G series: Also called Megatank, which is the most cost-effective PIXMA option. It uses refillable ink bottles instead of ink cartridges. It's easy to refill and you can print up to 10,000 pages with clear text, graphics and photos.
PIXMA Pro series: If you are a photographer and need a professional printing effect, Pro Series will be your best choice.
High cost performance
If you are tired of changing ink cartridges, Canon PIXMA specially launched G series, also called MegaTank series. The ink volume of MegaTank ink bottle is more than 30 times, which can save you $1175 of ink a year. MegaTank all in one printer uses both pigment and dye inks. Pigment based black ink formulation for durable and clear black text. Dye based ink formulations enable vivid and colorful images.
Easy to use
Except for ip series, PIXMA series are All-in-One machines. A printer can easily handle all kinds of tasks such as printing, scanning and copying. Use the HP smart application to guide you through the simple setup of each step and get started quickly.
High printing effect
Whether you are printing high-quality photos or ordinary office documents, PIXMA printer can print high-quality prints that really make your project shine. Garner prints at resolutions up to 9600 x 2400 DPI. Using separate color cartridges means that you only need to replace them when they run out of color (instead of discarding one or two color Tri Color units that are still half full). PIXMA printers can also generate bright colors and photos that look like professionally printed photos. In addition, all kinds of non-standard paper can be easily passed through the PIXMA printer.
Wireless and portable
Canon PIXMA printers are wireless, which means you can put them anywhere and print to them over your home wireless network. They are also suitable for mobile devices, which means they can accept print commands not only from laptops, but also from tablets or smartphones.
The Most popular PIXMA printer models
We chose the following three printers because they are very popular and considering the price of ink cartridges, they also provide great value when used with affordable compatible Canon Ink cartridges, let's jump in:
Canon PIXMA TS6420
PIXMA TS6420 is a compact and fashionable All-in-One printer, which designed for your busy lifestyle. It's easy to set up and use – with a 1.44-inch OLED window that provides clear, easy to read status messages and front and back feed, so you can print on various paper types. The TS6420 can easily handle your daily tasks, from scanning old handwritten recipes to printing crafts from Canon Creative Park appx. Whether printing from your computer or wireless printing from your smartphone, the TS6420 is an easy All-in-One printer that can meet your daily printing needs.
PXIMA TS6420 use with Canon PG-260 black ink cartridge and CL-261 tri-color ink cartridge. If you print more, v4ink Canon PG-260XL (Black) and CL-261XL (Color) Remanufactured High Yield combo pack will be your best choice, which can provide you best price and the same quality as the original.
Canon PIXMA G6020
Canon PIXMA G6020 wireless Mega Tank All-in-One printer is designed for users who want to print, copy and scan and do not need to worry about replacing expensive ink cartridge.
The PIXMA g6020 wireless megatank printer can print up to 6000 pages of black text and 7700 pages of vivid color pages. This powerful multitasking device also provides high-quality and beautiful borderless photos. Easy connection – allows you to print from all your favorite devices.
The PIXMA G6020 uses ink bottles instead of ink cartridges to provide you with high cost efficiency. When the ink of a specific color is insufficient, you need to refill the corresponding ink bottle. Don't worry, Canon makes the refilling process become simple. Using ink bottles can save you up to 30% more than using ink cartridges.
Canon PIXMA IX6820
Using the PIXMA IX6820 wireless inkjet business printer is your excellent office partner, which is able to output everything from 4 "x 6" emails to 11 "x 17" spreadsheets – even large presentation charts of 13 "x 19". Its print quality will impress you, with a maximum color DPI of 9600 x 2400, providing excellent print details. Using five individual ink cartridges, you can not only get amazing colors, but also change only the used colors.
V4ink offers you the best price option of ink cartridges. V4ink Canon PGI250xl compatible high year ink cartridge 5-pieces combo pack only needs 18.99, including 1x black, 1x photo black, 1x cyan, 1x magenta and 1x yellow ink cartridges. The cost is significantly reduced, but the printing volume is significantly increased.
Canon PIXMA series printer provides us with excellent printing effects and different choices to meet our different needs. So that you can safely buy the right printer for your home or office. If you have any questions about PIXMA series printers or have more questions to discuss with us, please join our FB group: v4ink Canon PG-260 and CL-261 ink Group, if you have more questions, you can contact us by email: support_team@v4ink.com.
Article Source: https://www.v4ink.com/Why-Canon-PIXMA-printer-is-your-best-choice