Although color printers can provide us with more choices of printing effects, black-and-white printers are more commonly used for office because of their lower cost and faster printing speed.
What is a black-and-white printer?
Black and white printer is also called monochrome printer. It only uses black ink or black toner. It is generally considered more cost-effective than color printers. Black and white printers are usually used in professional environments because they have faster printing speed, lower printing cost per page, and excellent text quality in the case of monochrome laser printers.
For the heavy daily printing demand, black and white printer is a more reasonable choice, because it can print quickly and output a large amount, while maintaining a fairly low operating cost. It may not be as versatile as a color printer, but it is still the preferred printer for commercial purposes because color is not always necessary in most professional environments.
---
Black and white printer vs color printer
As we all know, there are two main types of printers, laser printer and inkjet printer. You can also get more detail for this two types of printer: Laser vs. Inkjet Printer.
Laser printers are divided into black-and-white laser printers and color laser printers. As the name suggests, black-and-white laser printers can only print black-and-white documents, while color laser printers can print color pictures and text, but the price of color laser printers is relatively high.
All of the Inkjet printers can print color. Its biggest advantage is that it can print color images finely. But the disadvantage is the high cost.
---
What users are more suitable for choosing black-and-white printers?
Users who consider cheaper operating costs:
Black and white printers cost less to own and operate because they require only one color of toner or ink to print. Color printers often require multiple ink cartridges / toner cartridges (four or more colors) to print at the same time.
Users who do not want to spend more maintenance costs and time:
Inkjet printers require more maintenance costs than black and white laser printers because their nozzles are easily blocked. You need to clean them regularly, otherwise you need to spend more money on maintenance.
Users who with large printing volume and certain requirements for printing speed:
If you want to print a large number of business documents, please consider using a clear and fast black-and-white laser printer. The clear text and fast output of black-and-white laser printer make it an ideal choice for high-capacity document printing with priority on readability.
Users who mainly print in black and white:
Color laser printers are usually more expensive than monochrome laser printers, inkjet printers are even more expensive, and the price of ink cartridges is much more expensive than the toner cartridges used by laser printers. If you mainly print black and white word documents and spreadsheets, it is worth considering using a black-and-white printer because it can save you more.
---
There are 4 Best black and white printer recommended by v4ink for your reference, let's jump in!
Black and white printer for home use
Black and white printer for small office
Black and white printer for large commercial
Black and white printer for school work
---
Black and white printer for home use
Brother HL-L2370DW Wireless Monochrome Laser Printer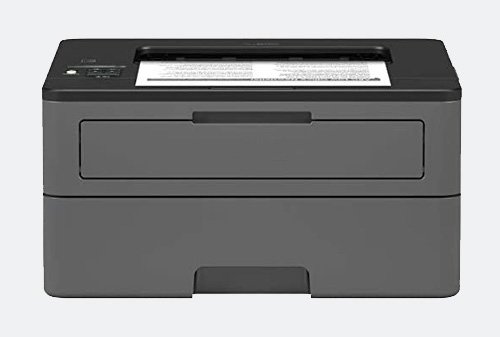 If your printer does not require scanning, copying or fax functions, please select brother HL-L2370DW, which may be the most affordable and reliable monochrome printing (Amazon price $185.95).
Its printing speed (36 ppm) is comparable to other highly praised all-in-one machines in the market. It has automatic two-sided printing, 250 page tray capacity and excellent print resolution (2400 x 600 dpi) and a manual slot for feeding envelopes and other irregularly sized items.
Brother provide two compatible versions for this printer model, which is Brother TN 730 standard yield toner cartridge prints 1200 pages and Brother TN 760 high yield toner cartridge print 3000 pages. The toner cartridge needs to be used with Brother DR 730 drum unit. Choosing v4ink compatible TN760 and DR730 combo pack can save you more.
It can perfectly handle daily printing tasks and is very suitable for home use.
Black and white printer for small office
Brother MFCL2750DW Monochrome All-in-One Wireless Laser Printer
Brother MFC-L2750DW is developed for the busy home or small office, which is a multifunctional printer with powerful functions (Print / Copy / Scan / Fax).
As an alternative to the MFC-L2740dw, it can save time by performing one-way two-sided (2-sided) copy and scanning and multi page copy, scanning and fax functions through an automatic document feeder of up to 50 pages.
Brother's latest compact laser all-in-one printer features advanced printing at 36 pages per minute which making it suitable for busy but small offices.
The high yield Brother TN 760 black toner cartridge also provides sufficient capacity to print about 3000 pages, which can meet the daily use of small offices
Black and white printer for large commercial
HP imageCLASS MF445dw All-in-One Wireless Laser Printer
Designed for small and medium-size businesses, the Canon imageclass MF445dw model balances speedy performance, minimal maintenance, and the ability to add an extra paper tray. A 5″ color touchscreen delivers an intuitive user experience and can be customized by a device administrator to help simplify many daily tasks.
The MF445dw printer provides an expandable paper capacity of up to 900 sheets. You can load 250 sheets in the standard paper tray, 100 sheets in the multipurpose tray, and 550 sheets in the optional paper tray AH-1.
MF445dw printer uses Canon toner 057 black (3100 pages) and 057H black, high capacity (10000 pages), High yield cartridges can handle the huge printing needs and busy work of the business.
Black and white printer for school work
HP Laserjet Pro M15w Wireless Laser Printer
Known as the smallest black-and-white printer, LaserJet Pro m15w combines the practicability of black-and-white printer and the floor area of inkjet model, which is convenient for desktop storage and is very suitable for students in dormitories. Its disadvantage is that the printing quality is not good enough (its resolution is only 600 x 600dpi) and the printing speed is only 19ppm, but if you don't have much requirements for printing speed and quality (there is no problem printing reading materials, papers and notes), it is definitely the most economical choice for school work.
In addition, it uses HP 48A CF248A toner cartridge, which is very cost-effective. V4ink HP 48A compatible toner cartridge can print up to 1000 pages as long as $18.99, which is completely affordable for students.
Article Source: https://www.v4ink.com/What-is-The-Best-Black-and-White-Printer