HP is one of the most popular brands in printing supplies, and HP 902 ink cartridge is the most popular representative. In 2019, HP launched several new ink cartridges, among which HP 910 is much-concerned as it is an upgraded version of HP 902. In addition to their similar appearance, their matching printers are completely different. let's meet the HP 910 ink cartridges!
---
Is the HP 910 and HP 902 ink cartridge the same?
No, although they look the same, but they are two different models. As mentioned above, the HP 910 is an upgraded version of the HP 902 ink cartridge. In other words, the printer compatible with HP 910 ink is an upgraded version of the printer compatible with HP 902 ink. Therefore, the HP 910 is compatible with specific printer models which are completely different from the HP 902.
---
Which printers are compatible with HP 910/910XL?
HP 910/910XL work with the same printers, which is:OfficeJet Pro 8015, 8018, 8020, 8022, 8024, 8025, 8025e, 8028, 8031, 8033, 8034, 8035, 8035e.
---
What is the difference between HP 910 and HP 910XL ink cartridge?
The biggest difference between HP 910 standard yield and HP 910XL High Yield is their page yield. They are the same physical size and are installed in the same way, but there is more ink in the XL cartridge.
HP 910 (3YL61AN) Standard Yield Black Ink Cartridge can print up to 300 pages
HP 910XL (3YL65AN) High Yield Black Ink Cartridge can print up to 825 pages
HP 910 (3YL58AN) Standard Yield Cyan Ink Cartridge can print up to 315 pages
HP 910XL (3YL62AN) High Yield Cyan Ink Cartridge can print up to 825 pages
HP 910 (3YL59AN) Standard Yield Magenta Ink Cartridge can print up to 315 pages
HP 910XL (3YL63AN) High Yield Magenta Ink Cartridge can print up to 825 pages
HP 910 (3YL60AN) Standard Yield Yellow Ink Cartridge can print up to 315 pages
HP 910XL (3YL64AN) High Yield Yellow Ink Cartridge can print up to 825 pages
---
Are HP 910XL worth to buy?
As we all know, replacement HP ink cartridges are usually available in two sizes, standard yield and high-yield or XL. For some series of printers, you can also choose to use Extra-high-yield ink cartridge, but they are not widely used. Regardless of what size you use with, the ink cartridge will be installed in the printer in exactly the same way. In fact, the physical size of the cartridge is the same regardless of the page yield – the only difference is the amount of ink in the cartridge. The higher page yield has, the more ink you get. Higher page yield ink cartridges may be more expensive than standard yield ink cartridges, but they have lower cost per page and can save more money in the long run.
We take HP 910/910XL as an example:
| | | | |
| --- | --- | --- | --- |
| Cartridge Series | OEM Price* | Page Yield | Cost per Page |
| HP 910 Standard Yield black | $18.99 | 300 Pages | 6.02 cents |
| HP 910XL High Yield black | $40.99 | 825 Pages | 4.97 cents |
| HP 916XL Extra High Yield black | $53.99 | 1,500 Pages | 3.60 cents |
According to the above data, the HP 916XL is the most cost-effective, but because the extra high yield ink cartridge is not commonly used, and the HP 910XL meets the needs of most users in terms of print volume and price, the HP 910XL is more recommended.
---
Are there affordable alternatives for HP 910 cartridges
The answer is yes! There are three kinds of affordable alternatives for HP 910 cartridges.
1. Refilled ink personally
Compared with the original ink cartridge and non-original ink cartridge, refilled ink is absolutely cheaper. Users only need to buy ink and refill it into the used original ink cartridge.
But in fact, the refilling process is extremely complex, and it can mess up your hands and table. The refilled ink cartridge is not sure to be recognized by your printer. An error "non-cartridge" is likely to appear.
2. Remanufactured ink cartridge
Remanufactured ink cartridge is a kind of ink cartridge which is collected by a third-party consumable supplier after recycling, cleaning and refilling. Although remanufactured ink cartridge has the same appearance as original ink cartridge and may be fully compatible with printer, it does not mean that its quality and printing effect are the same as original ink cartridge. The ink cartridge may not be recognized by printer due to the recycle chip.
3. New compatible ink cartridge
The new compatible ink cartridge is developed and produced by the third-party consumables supplier, which is a new unused ink cartridge. Its appearance and brand are completely different from the original, but they can be recognized by printer as well as the original ink cartridge and can perfectly match our printer. If you are looking for a cheap alternative cartridge, v4ink HP 910XL ink cartridge is your best choice. v4ink provide you with HP 910XL Black ink cartridge, HP 910XL C/M/Y 3-Piece color set and HP 910XL KCMY 4 Color Set with best price. You can save up to 53% than buying OEM products.
---
Is HP 910 recalled?
HP company reported that HP 910 cyan and yellow ink cartridges were recalled due to quality problems. These ink cartridges are made in Malaysia and the warranty period is from April 1, 2022 to September 18, 2022.
Fortunately, the HP 910XL all color ink cartridges are available on v4ink now and they did not made in Malaysia and can perfectly compatible with your printer.
---
How to troubleshoot the HP 910/910XL ink cartridge
In our daily life, we often encounter this kind of situation. When you put a new compatible HP ink cartridge into your printer, the printer keeps telling you that you "Replace cartridge" or the ink level is still read empty. In order to prevent third-party ink cartridges from being used in their printers, HP manufacturers have designed an ink cartridge protection device in their printers, so that compatible ink cartridges cannot be recognized by HP printers.
The cartridge protection feature impacts the following HP cartridge series*: HP
60, 61, 62, 63, 64, 65, 301, 302, 303, 304, 902, 903, 906XL, 907XL, 910, 934/935, 950/951, 952/956XL, 962, 953/957XL, 954/958XL & 970/971.
How can HP printers recognize your compatible ink cartridge? You need to trick your HP printer,so how to operate? Let's take a look at the v4ink guide: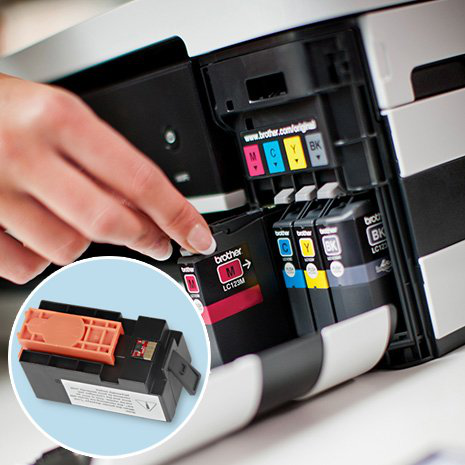 Step 1: Remove the new cartridge from the printer and reload the old ink cartridge back into the printer.
Step 2: Wait about 10 minutes before proceeding to the next step.
Step 3: Remove the old cartridge and then re-install the new cartridge.
Your HP printer should now recognize the new cartridge. If not, try the following alternative steps:
Step 1. Remove the new ink cartridge from the printer.
Step 2. Please shut down your printer and power it down for 10 minutes.
Step 3. Re-connect the power cord, but do not turn on the power button for the time being.
Step 4. Replace the new ink cartridge with the printer.
---
How to solve the quality issue of HP 910/910XL ink cartridge?
01. White streaks, or lines/bands in solid color area fills

The cartridge may be empty. Please note that if you recently have received a "low ink" warning alert, the inks possibly run out. If not, after determining which color cartridge is causing the print quality problem, you can run print head cleaning on the printer to try and solve the problem.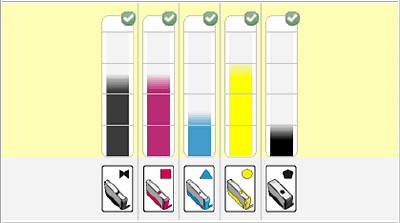 How to clean the print head
1. On the printer control panel, slide down to open the dashboard, and then select the settings icon
2. Slide up on the screen and select printer maintenance
3. Select "clean print head" and then select "continue"
If the print quality on the test page does not improve, try to clean a second or third time as needed. If it cannot be improved after the third cleaning, the cartridge may need to be replaced.
02. Leaking ink
The source of the leak needs to be identified and corrected.
If there is a small amount of ink leaking at the edges, seams, or other areas of the nozzle, gently clean / wipe it off.
If ink appears to leak directly from the print head nozzle, gently dry / wipe the print head area with a wet paper towel for a few seconds. Repeat until the leak stops.
03. The color doesn't match the previous one, seems dim or faded
The color printed out should look similar to the original cartridge. If you recently replaced the operating system or software driver, the problem may be caused by the difference between the previous configuration and the current configuration. Some operating systems and software drivers display / print different color intensity levels for a same source image. Also, check the carton and print quality mode to ensure that the paper and print settings are optimized for your print job. In draft mode, printing will be faster and less ink will be used, but the quality and ink saturation of printing and are low, what's more, horizontal streaks may occur. If these ideas don't work, try running the print head cleaning utility, which can correct the situation.
04. Missing Colors
If the printer displays severe quality problem on print performance and / or multiple color losses (including blank pages) observed in the printer self-test page or print quality report, it is recommended to select the "Clean Printhead", "Cleaning" or "Head Cleaning" function from the printer 'Tools/'Maintenance' menu. You may need to activate the "Clean Printhead" Function two or three times to help restore and restart the ink system.
---
Can HP 910 cartridges be refilled?
Yes, you can, but not a good idea.
v4ink have tested on the OEM / New Compatible and Refilled ink cartridges. The results show that there is a big gap between the Refilled ink cartridge and the OEM / New Compatible ink cartridges. The quality and stability of the OEM / New Compatible ink cartridge is far better than that of the refilled ink cartridge.
To sum up, refill HP 910 ink cartridge by yourself is not a good way to save money, and it is likely to damage your printer. OEM HP 910 ink is so expensive, so how to save money? V4ink reminds you that the new compatible ink cartridge can almost match the OEM ink cartridge in various performances, however the price is only 50% of the OEM ink cartridge. That is to say, you can buy two new compatible v4ink HP 910XL ink cartridges for the price of one OEM HP 910XL ink cartridge. The best way to save money is to give consideration to both quality and price.
Now you have a systematic understanding of HP 910 / 910xl. If you have any questions about HP 910 / 910xl, please feel free to contact our after-sales team directly. Our email address is: support_team@v4ink.com or contact us on Facebook: @v4ink.
Article Source: https://www.v4ink.com/The-Ultimate-Guide-of-HP-910-910XL-Ink-Cartridge