As one of the most popular color LaserJet printers, HP M479fdw is a good partner for a small-to-medium business workplace. Its all-in-one functions which include faxing, copying, scanning, wireless printing and etc., can almost meet all the printing demands from a small or medium-sized office.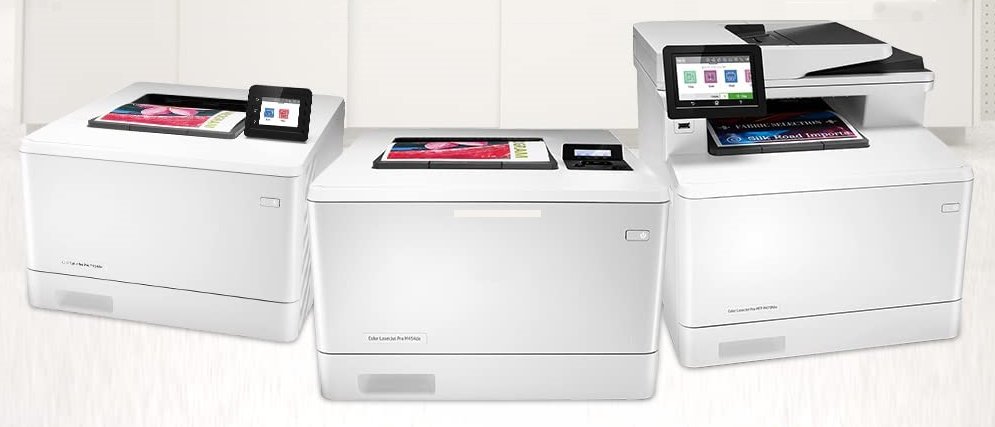 This article will show you the types and specifications of its printing consumables and how to make a proper choice when you need to purchase toner cartridges for the printer.
Compatible Toner Cartridge HP 414A and HP 414X
Includes: 4 packs of toner cartridges in different colors (black, cyan, magenta, yellow)
What's the difference between HP 414A and HP 414X toner cartridges?
The physical construction is the same and they share the same compatible printers. The only difference is the print capacity.
HP 414A Standard Capacity Toner Cartridge
| | | | | |
| --- | --- | --- | --- | --- |
| Color | 414a black toner | 414a cyan toner | 414a magenta toner | 414a yellow toner |
| Page Yield | 2,400 pages | 1,200 pages | 1,200 pages | 1,200 pages |

HP 414X High Capacity Toner Cartridge
| | | | | |
| --- | --- | --- | --- | --- |
| Color | 414x black toner | 414x cyan toner | 414x magenta toner | 414x yellow toner |
| Page Yield | 7,500 pages | 6,000 pages | 6,000 pages | 6,000 pages |

Printers share the same toner cartridge
HP LaserJet Pro M454dn Color Laser Printe
HP LaserJet Pro M454dw Color Laser Printer
HP LaserJet Pro M479fdn Color Laser Printer
HP LaserJet Pro M479dw Color Laser Printer
HP LaserJet Pro M479fdw Color Laser Printer
Nowadays, there are different types of 414A/X toner cartridges in the aftermarket, with a range of different features and costs. Here, we will clarify the difference between the cartridges and how to save more on printer toner.
HP 414A/X OEM toner cartridges
HP 414A/X OEM toner cartridges can also be known as HP 414A/X genuine cartridge which was produced by the printer manufacturer, HP or its authorized manufacturers. You could get a free sample when purchasing the printer or can purchase from other supplies when it runs out. It's generally supplied in separate a single color cartridge since its price is very expensive.
DIY 414A/X generic new compatible toner cartridges
414A/X compatible cartridge is often offered by the 3rd party supplied. It's only at half or a small fraction of the cost of OEM ones. But the capacity and print quality may vary depending on the seller you have chosen. And all of new compatible toner cartridges in the current aftermarket are without chips. It means that if you're going to purchase a 414a compatible cartridge, you may need to properly keep your OEM chip when the cartridge runs out.
HP remanufactured 414A/X toner cartridges
414A/X remanufactured is a used OEM cartridge. It's refurbished with new parts and refilled with new toner. The price is relatively low than the OEM cartridge and it comes along with a chip. You don't need to transfer a chip before using it.
How to save on printer toner cartridge?
As we know, the running cost of a color Laser printer is usually higher than a monochrome printer. With 4 packs of toner cartridges need to be replaced, the average cost of HP M479fdw may double or evermore. So choosing a reliable and cost-effective supplier for consumables could be a critical task to make the process of office paper work run smoothly at the lowest expense. If you're still in doubt, you could choose a pack of v4ink 414X new compatible black toner cartridge as a test.
Less than 30% cost of OEM ones,  v4ink 414x black cartridge can provide with the equal page yield and service life with clean and consistent printout as HP original cartridge does. And you can save more if choosing the 4-pack of cartridge combo.
How to replace chip for DIY toner cartridge?
Distinct from other suppliers, v4ink DIY cartridge will be added a set of special tools along with the package to help users transfer chip. Users could refer to the detailed instruction in the package or check the video on our website for the operating steps.
What's more, we extended the quality coverage to 2-year for your peace of mind in any case you need us.
What to do if we don't have an OEM chip?
If your cartridge chip was lost or does not work, v4ink 414x remanufactured toner cartridge may be a good option. By choosing this environment-friendly item, besides saving nearly 30% of the cost, you can help us step further in an effort to protect our planet. In addition, this cartridge comes with OEM original chip. You could put it into your printer directly out from package. It's also backed with our 2-year quality coverage to guarantee your printing work is efficient and effective.  
Frequently Asked Questions
Anything we need to pay attention to when replacing chip?
Make sure you have installed the chip in the correct direction and in right position.
Verify the chip is from the right original cartridge. If you mean to replace chip for a black cartridge, make sure it is from HP black cartridge.
How to disable the prompt on computer?
After inserting the cartridge, your printer or computer may pop up an error message to remind "Cartridge is Low", please don't worry, it's because the chip still keeps the memory of your last cartridge. You could print a page to check the performance and disable the prompt by following up the steps in the picture.

Is a 414a chip valid for a 414x cartridge?
Yes the standard cartridge and high yield cartridge may share the same chip but make sure it's from the same color cartridge.
How many times could we reuse an OEM chip?
We typically recommend re-using a chip in 3-4 toner cartridges. The print quality may decline when the chip has worn down after several times recycling.t
Article Source: https://www.v4ink.com/The-Ultimate-Guide-for-choosing-414AX-Toner-cartridge