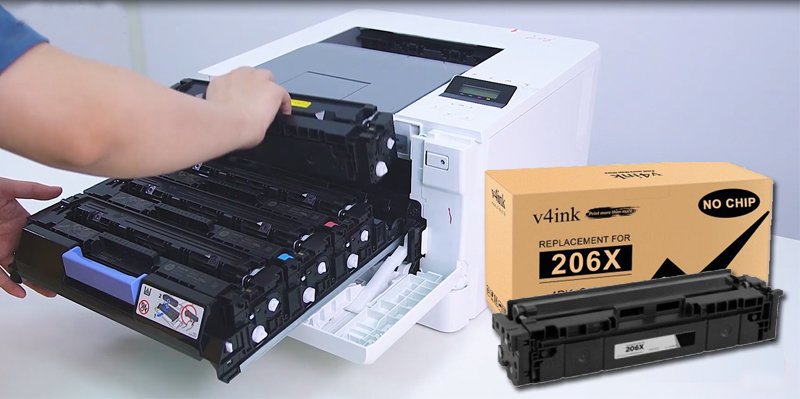 When purchasing HP 206, you will find that there are two versions to choose from, one is 206A and the other is 206X. What is the difference between them? Can they be used together?
Page Yield
The HP 206A is a standard yield cartridge and the HP 206X is the high yield version of the 206A. They are both compatible with same printer models: HP Color LaserJet Pro M255 series M255dw MFP M282 series M282nw MFP M283 series M283cdw M283fdw Printer.
However, the HP 206X Toner cartridge contains more toner powder and provide more printing pages than the HP 206A standard cartridge.
| | | |
| --- | --- | --- |
| Series | Black Ink Cartridge | CMY Ink Cartridge |
| HP 206A Standard Yield | 1350 pages | 1250 pages |
| HP 206X High Yield | 3150 pages | 2450 pages |
Whether it's color or black, the page yield of HP 206X High Yield toner cartridge is 2 times than the HP 206A Standard Yield Toner Cartridge. That means the service life of HP 206X is 2 times longer than the HP 206A. If you don't want to change the cartridge frequently, or if you print more page in your daily life, It will be better to select HP 206X High yield toner cartridges.
Cost per page
Cost per page (CPP) is determined by dividing the cost of that printer cartridge by the printer cartridge's page yield. Through the cost per page, we can find out which product has better cost performance.
The cost per page comparison of OEM HP 206A/X Black Toner cartridge:
| | | |
| --- | --- | --- |
| Black | HP 206A | HP 206X |
| OEM Price | $62.99 | $94.99 |
| Page Yield | 1350 pages | 3150 |
| Cost per Page | 4.67 Cents | 3.02 Cents |
| | | |
| --- | --- | --- |
| C/Y/M | HP 206A Standard Yield | HP 206X High Yield |
| OEM Price | $73.99 | $100.99 |
| Page Yield | 1025 pages | 2450 pages |
| Cost per Page | 5.92 Cents | 4.12 Cents |
Through the above comparison, it can be seen that although 206A standard yield toner cartridge has a lower price, but the cost per page are more expensive than 206X high yield toner cartridge. Therefore, using 206X high yield toner cartridge will save you more money in the long run.
What' s the best price alternative forHP 206A and 206X?
Are you still paying for the expensive OEM HP 206 toner cartridge? here comes a good way to help you save more. V4ink provide you with a best price alternative for OEM HP 206A and 206X, which is v4ink compatible HP 206A and HP 206X DIY version.
What does the DIY version means?
These toners are DIY version(Do It Yourself) that means they DO NOT come with a chip. You just need to remove the chip from your OEM toner cartridge, then install the chip into our DIY toner cartridge before put it into your printer.
Does the v4ink DIY version fit my printer?
The compatible printer model of v4ink DIY version is the same as the original compatible printer model. And it is easy to install as well. However, it should be noted that the printer may show " Low toner" or "Used" after you install correctly, because the chip has remembered the capacity of your old toner cartridge. But just need to ignore the message and print as usual.
Can I install 206A and 206X together?
Yes, HP 206A standard yield cartridges and 206X high yield cartridges can be installed together and used in your printer at the same time. Most standard yield and high yield cartridges have the same size and are installed in the same way into your printer.
Article Source: https://www.v4ink.com/The-difference-between-HP-206A-and-HP-206X-toner-cartridges