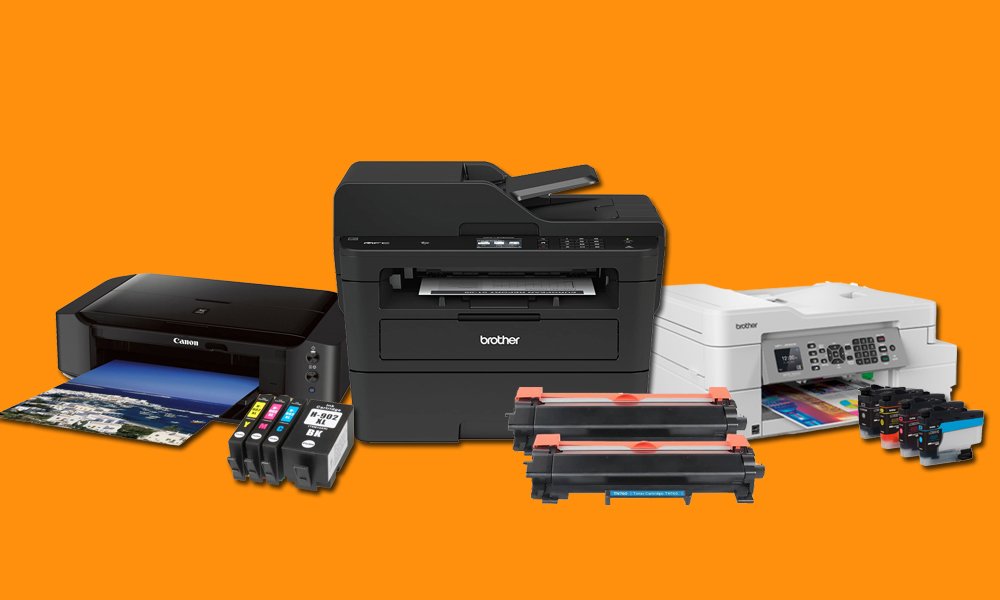 With the increasing number of people working at home, it's crucial to choose a effective and suitable printer. You may find that if you are not working in the office, what you need may not only be a printer, but also a scanner and even a fax machine. Thus a All-in-One printer would be your good choice.
This is the source of our best All-in-One printer purchase guide. On this page, you'll find honest and direct purchase suggestions for the best All-in-One printers.
Brother MFC-J805DW
Best Budget All-in-One Printer With Cheaper Ink
If you only care about the cost and not about the printing speed, then brother's entry-level AIO brother mfc-j805dw should be your best choice. It only costs only 0.9 cents for black and white printing and 4.7 cents for color printing. Not only is it cheap, but it can also produce beautiful printed and scanned copies.
The high-capacity ink tank cartridges together with an internal ink storage tank and a smart Page Gauge help provide convenient and continuous printing for up to 1 year without the need to purchase ink.As long as you have no requirement for its printing speed, it is definitely the most cost-effective printer for your choice.
HP OfficeJet Pro 6968
Best All-in-One Printer for Upgrade pick
Hp OfficeJet Pro 6968 is the upgrade version of the HP OfficeJet Pro 6960, which integrate copy, scan, fax, wireless printing, two-sided printing and scanning, color touchscreen, automatic document feeder in one.
Hp OfficeJet Pro 6968 is designed for business, which produce fast professional-quality color for 50% less than lasers. It is suitable for office or home user who is in pursuit of high quality printing effect.
HP 902 standard cartridge and HP 902XL high-yield cartridge are both compatible for HP OfficeJet Pro 6968 printer. If you print more frequently, HP 902XL high-yield cartridge would be a better choice because it can print more and save you more.
Brother MFC-L2750DW
Best All-in-One Printer for Black & White Documents
Brother MFC-L2750DW is a compact laser printer, with high printing speed, 36 pages per minute, which is designed for busy homes or small offices.
It's a very well-built, monochrome printer with an outstanding cartridge system. Brother TN730 TN760 Toner Cartridge are compatible for this printer model. TN730 Toner Cartridge can only print 1,200 pages per cartridge, it need to be replace more frequently. TN760 is considered to be more affordable, because it can last longer and can print up to 3,000 pages per cartridge. You can get clear and crisp printing result with v4ink compatible TN760 Toner Cartridges. But don't forget that TN760/TN730 Toner Cartridge need to use together with DR730 Drum Unit.
Canon Pixma iP8720
Best All-in-One Printer for Photos
Canon Pixma iP8720 is an outstanding photo printer which designs for bold color reproduction on any high quality inkjet paper, the ip8720 is a photo printer that graphic designers, agents, business users and greeting cards should consider.
Canon ip8720 uses ChromaLife 100 + dye based ink, model CLI-251.
CLI-251 ink has standard size and XL size. You can save even more if you choose XL size. V4ink Canon PGI-250XL CLI-251 Compatible Ink Cartridge 18-Piece including 6 PGBlack, 3 Black, 3 Cyan, 3 Magenta, 3 Yellow costs only $45.99. They can print up to 550 pages per black ink cartridge, 5,000 pages per Pigment Black ink cartridge and 680 pages per color ink cartridge based on 5% coverage (letter/A4).
Key points for selecting All-in-One printers
In fact, many people do not need AIO printers, but sometimes an AIO printer can bring you a lot of convenience. An AIO printer can cover all the functions of a printer, a scanner and a fax machine. However, before choosing AIO printers, the following things must be consider.
1. Identify the functions that you are most concerned about
No matter what kind of printer you buy, please be clear about the functions you are most concerned about. If you are most concerned about the printing capacity of the printer, please give priority to the option of printing more pages per minute or providing better printing results. If scanning and copying are more important to you, consider whether you want to use the feeder that runs the page in the copier or the top shelf.
2. Pay attention to your budget
There is no doubt that the price of the AIO printer is higher than that of the printer only with printing function. The more functions, the higher the price. So keep your budget in mind before choosing an AIO printer.
3. Focus on your space needs
Last but not least, don't forget your space needs. AIO printers are often larger than its single function or multi-function alternative products. Before selecting a printer, make sure you know where to put the printer and how much real space you are willing to offer.
Now do you know how to choose an All-in-One printer?
Article Source: https://www.v4ink.com/The-Best-All-in-One-Printers-in-2021-v4ink-Guide