If you work in a medium-to-small sized organization in which you need to deal with a massive volume of paperwork on a daily basis, an effective and efficient printer will be a good partner to save you in a redundant printing process and make you and your fellows focus the time and energy on the work tasks. If it happens to you, HP Color LaserJet pro m479fdw will be a solid option for you.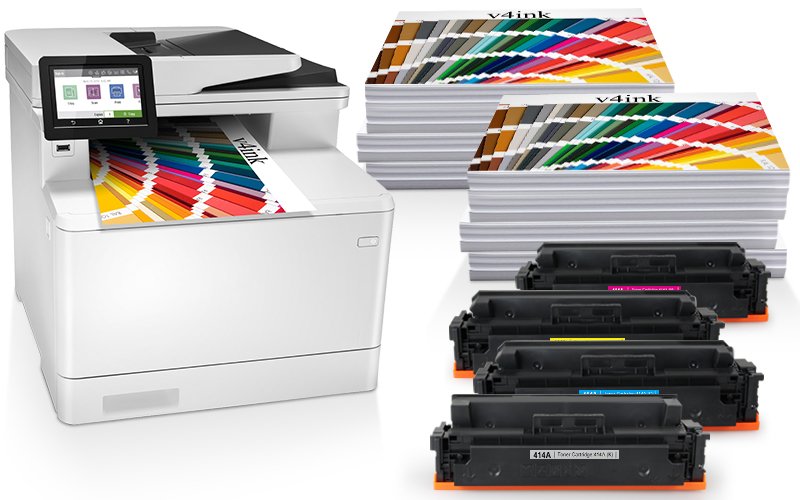 As an all-in-one printer, this multifunctional LaserJet combines 4 basic functions in a machine: print, scan, copy, fax, and is also enhanced with auto-2-sided printing, wireless direct, auto document feeder to help the users streamline the documents processes and get the files more quickly. Meanwhile, a walk-up USB port offers a high-speed way to transfer the large file in any case you needed.
In addition, there is an extra feature embedded in this HP printer which was often overlooked or underestimated by many of us, Dual-band WIFI with a self-healing network. This technology enables the device to reboot itself when it goes offline and to inspect any outbound connections in case any suspicious cyber-attacks occur. It will safeguard your network security and help you to protect confidential or sensitive information against malicious activity.
Product Specifications
| | |
| --- | --- |
| HP Model | HP Color LaserJet pro m479fdw |
| Product Number | W1A80A |
| Functions | Print, Scan, Copy, Fax, Email |
| Output Type | Full Color and Black |
| Print Speed | 28 ppm for Black and Colors |
| 2-Sided Printing | Automatic |
| Auto Document Feeder | 50-Sheet, 2-Sided |
| Input/output capacity | 50-Sheet Multipurpose Input Tray, 250-Sheet Input Tray, 150-Sheet Output Tray, 550-Sheet Optional Input Tray |
| Printer Connectivity | WIFI, Bluetooth, USB, Network |
| Printer Display | 4.3'' Color Touchscreen |
| Dimensions | 16.4 x 18.6 x 15.7 inches |
| Item Weight | 51.60lbs |
| Print Volume | Recommended 750 – 4000 pages Monthly |
| Security features | Yes |
| Operating System | Linux, Mac, Windows, IOS, Android |
What's toner cartridge used in HP m479fdw Printer?
This printer contains 4 individual toner cartridges, black, cyan, magenta, yellow and all of them are available at either standard yield or high capacity version.
Both versions share the same physical size but are with different yield capacities. The standard version, HP 414A, can produce 2,400 pages per black and 1,200 pages per color, while HP 414X high yield cartridges yield 7,500 pages per black and 6,000 pages per color. If you print a lot and frequently, the high-yield cartridges will be a better deal.
Now we can offer 3 choices for you. The 1st one is v4ink 414X new compatible DIY toner cartridges. The toner cartridges are brand new but without chips. It requires users to transfer OEM chips into v4ink cartridges. If you still keep the chips, you could choose this cartridge because it will help you save nearly 90% compared to HP original cartridges.
Or if you happen to throw away your empty OEM cartridges or the chips are damaged, v4ink HP 414X remanufactured toner cartridges will be a not bad choice for you. These cartridges were refilled with v4ink high-quality toner powder and include OEM chips. There is no need to reinstall the chip and users could put them into the printer directly out of the box.
However, if the above two cartridges are not ideal for you, you can turn to the final choice, v4ink new compatible HP 414X cartridges. They are brand new and come along with v4ink smart electrical chips. You don't need to spend time transferring the chips. Because of the affordable price and effective features, these cartridges are a great way to cut down the cost and save your time. Now, a full set of 4-pack combo only costs $279.99, which means you could save more than 70% by choosing these cartridges.
Warm Tips: HP may pop up a message to remind you to update the firmware regularly or upgrade automatically without notifying you. If it happens to you, it will be better to bypass the message or disable the "Automatic Update" feature because it may lead to an unrecognizing of v4ink smart chips.
How to disable the firmware "Automatic Update" feature?
Swipe the home page and choose "Setup".
Click "Service" and select "LaserJet Update"
Click "Manage Updates" and choose "Check Automatically".
Choose "Off" to disable the feature.
Go back to the "Manage Updates" pages.
Choose the last button "Allow Updates" and select "No".
What should we do if the printer pops out "The indicated cartridges are non-HP cartridges"?
Please don't worry. It's a way of HP to remind users that the cartridge is from the 3-party source and it would not affect your normal use. You could press "OK" to bypass it or follow the steps to disable the feature if you don't want to be interrupted constantly.
Find the "Setup" icon on the home page.
Choose "Supply Setting" and "Cartridge Policy".
Touch "Off" to disable the feature.
How to deal with "Event Code: 10.00.00" displayed on the printer?
This message may prompt out when a new cartridge is installed or on its half-life. You could try to take out the cartridge and reinstall it.
Any way to deal with a "Cartridge is low" message displays on printer and computer?
This message is used to remind the toner cartridge level is low. But sometimes it may occur when a new cartridge is installed because the printer may still keep the memory of the last cartridge. You could press "OK" and continue to print when your printer pops up this message. Or click "Snooze" and choose "2-Months" to postpone the message when your computer reminds you.
Article Source: https://www.v4ink.com/Something-You-Do-Not-Know-About-Your-HP-m479fdw-Printer