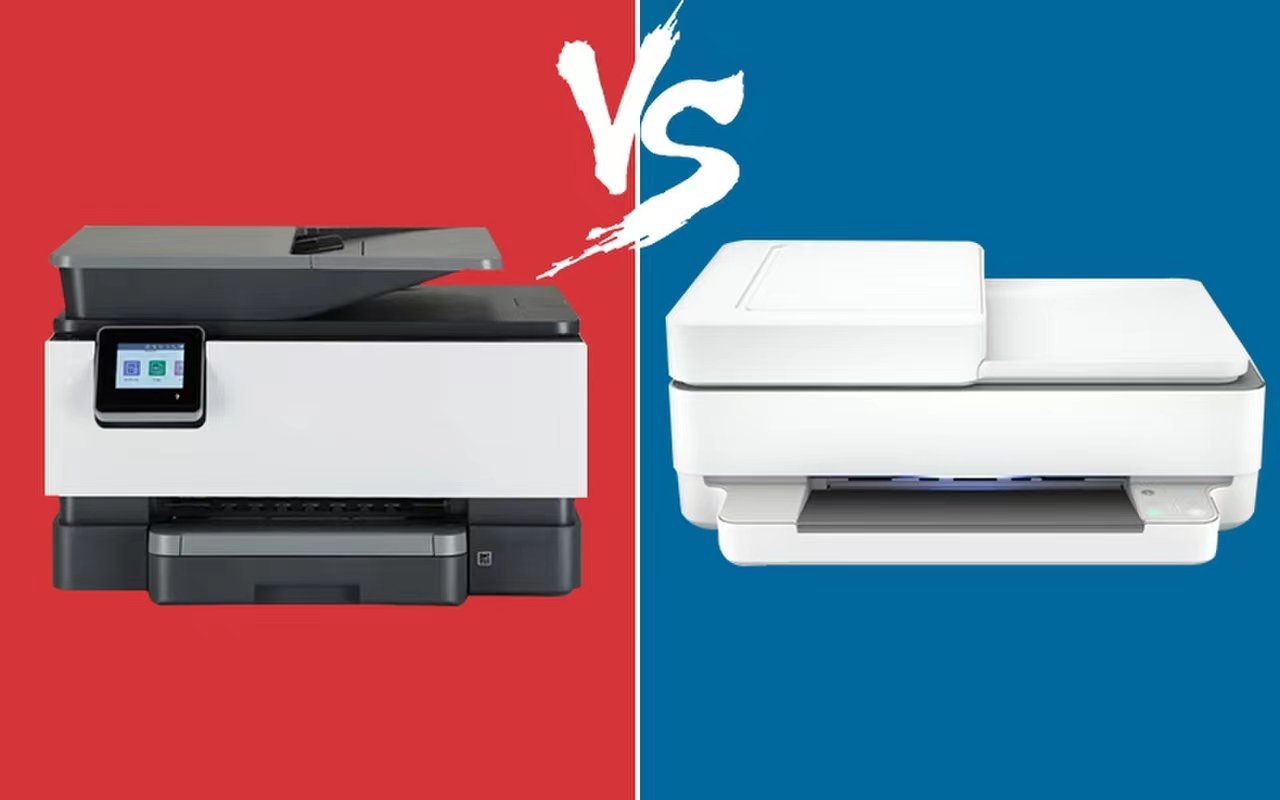 HP is one of preferred printer brand, which is available for in variety of scenarios such as home, office, school, hospital to meet to meet the requirements of various groups of people. When you're buying a HP printer, there are kinds of series such as OfficeJet, Envy, DeskJet, and LaserJet to dazzle buyers. In this guide, it will cover two well-known HP inkjet printer families: Envy and OfficeJet to learn HP printers step by step.
Envy Printers
HP envy series is famous for their excellent color printing. If you always print photos, cards, brochures, envy printer is a great partner, so it tends to be used at home to manage schoolwork, home office documents and everyday photos. Besides, its small shape makes convenient to be placed at home. And it's not means that it cannot use for business. As a simple printer, it also has basic function: printing, faxing, copying, and scanning. But it doesn't available for print, fax, copy and scan in high volumes at once.
OfficeJet Printers
Unlike HP envy printers, OfficeJet models are more focused for office or business, which needs to print lots of documents or files. The OfficeJet series of printers have automatic two-sided printing and are ideal for high-volume printing, copying, scanning and faxing without putting too much emphasis on color quality. Likewise, it also supports printing in color, but the color printing is not as prominent as the envy series printers, so it is not suitable for situation that requires lots of photos printing.
Envy vs OfficeJet
In order to more intuitively observe the difference between HP envy and OfficeJet lines of printers, the typical printers, envy 6455e and OfficeJet Pro 9015e, are selected to make a comparison. Some of their specifications are listed below to get their capabilities and features.
| | | |
| --- | --- | --- |
| | HP envy 6455e | HP OfficeJet Pro 9015e |
| Functions | Print, copy, scan, send mobile fax | Print, copy, scan, fax |
| Compatible ink types | Dye-based (color);Pigment-based (black) | Pigment-based(black and color) |
| Memory | 256 MB DDR3 | 512 MB |
| Paper handling input | Up to 100 sheets input tray | 250-sheet input tray;35-sheet ADF |
| Paper handling output | 25-sheet output tray | 60-sheet output tray |
It can be seen from the table that about fax function, envy 6455e only supports mobile fax, which needs to connect internet and only enable sending to fax machines, and its paper capacity is less. Obviously, it isn't suitable for the huge volume printing. However, the ink type of OfficeJet Pro 9015e is pigment-based whether it is black or color ink, while the color ink of HP envy printer is required dye-based ink. Because the dye inks are highly water-soluble, they can deliver bright and vivid color in printing photos.
Ink Cartridges
A great printer works well cannot ignore its ink cartridge. As shown in the table above, the ink types are also different to suit the characteristics of the printers. Similarly, take HP envy 6455e and HP OfficeJet Pro 9015e as the example. HP envy 6455e requires HP 67/67xl ink (the black ink is pigment based and the color one is dye-based ink), while HP OfficeJet Pro 9015e requires HP 962/962xl black or color ink cartridges, which are pigment ink.

However, with high demand image and document printing, expensive original ink cartridges quickly run out and become unaffordable. If you are looking for a cost-effective way to print with your HP printer, v4ink brand cartridges are a good choice.
For instance, v4ink 962xl cartridges are equipped with the most up-to-date version of the chip to ensure high compatibility, and providing high page yield (Black: up to 2000 pages; Color: 1600 pages) to support high-volume printing.
Article Source: https://www.v4ink.com/What-is-different-between-HP-Envy-and-HP-Officejet