If you're planning to purchase a new 414a toner cartridge for your HP printer, or already got one, here are some tips for you to learn more about the product. It includes when to replace the toner, how to choose a proper 414a toner cartridge, and what to do after receiving it. Let's start now.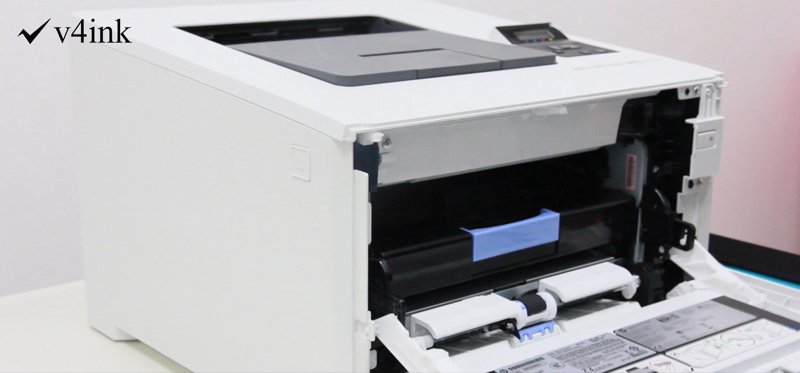 When to replace 414a toner for your HP printer?
As we all know, 414a toner is a cartridge combo which includes four packs of toner cartridges in four different colors (black, cyan, magenta, yellow). It's compatible with HP Color LaserJet printers. The following is its compatible printer list.
HP LaserJet Pro M454dn Color Laser Printer
HP LaserJet Pro M454dw Color Laser Printer
HP LaserJet Pro M479fdw Color Laser Printer
HP LaserJet Pro M479fdn Color Laser Printer
HP LaserJet Pro M479dw Color Laser Printer
When the printer toner level gets low, there are two types of messages on HP printers to reminder you to replace toner.
Cartridge is low: When you received this message, do not hurry to replace the cartridge immediately. You could click "Cartridge Icon" on the top of the printer control panel to check the actual toner levels as it may still remain some toner. If the print quality is still acceptable, you could continue to print with the current cartridges until the output gets faded or acceptable.
Cartridge is very low: When you found this message, you could consider replacing it. But if you just have no extra cartridge on hands, there is a way may help you. Take out the cartridge to shake it from side to side several times and then take a try. You still have chances to get it to work.
How to choose a proper toner cartridge?
HP published two types of toner cartridges with different page yields for your choice.
Standard Capacity: HP 414a, it includes 4 packs of toner cartridges with standard page yield. The 4 separate cartridges can be also known as w2020a, w2021a, w2022a, w2023a in HP part number. According to the ISO (the International Organization for Standardization) testing guidelines, the black cartridge can yield 2,400 pages while the color cartridges yield 1,200 pages.
| | | | | |
| --- | --- | --- | --- | --- |
| HP Part# | w2020a | w2021a | w2022a | W2023a |
| Color | 414a black toner | 414a cyan toner | 414a magenta toner | 414a yellow toner |
| Page Yield | 2,400 pages | 1,200 pages | 1,200 pages | 1,200 pages |
High Capacity: HP 414X, black cartridge with 7,500 pages, color cartridge with 6,000 pages. With more than 3 times the page yield of the standard version, this high yield toner cartridge can provide a longer service life for you but with a lower cost per page. Why? Let's check the cost. For example, a pack of HP 414A costs $84.99. With 2,400 pages yield, it means you need to pay 3.5 cents once print a page. 414x black cartridge costs $171.99 but with 7,500 pages, the high capacity cartridge can decrease the cost to 2.5 cents. It's obviously a cost-effective option if you print a lot every day and want to cut the budget of your printing expense.
| | | | | |
| --- | --- | --- | --- | --- |
| HP Part# | w2020x | w2021x | w2022x | W2023x |
| Color | 414x black toner | 414x cyan toner | 414x magenta toner | 414x yellow toner |
| Page Yield | 7,500 pages | 6,000 pages | 6,000 pages | 6,000 pages |
This may be a choice, but we can offer you a better one, v4ink 414X DIY toner cartridge. You can get 1 pack of v4ink 414x black toner cartridge only at $49.99. With the same page yield as HP high capacity cartridge, we could decrease the cost per page for you to 0.67 cents. It means you could save up to 70% of the cost by choosing v4ink DIY cartridge but only need to take an extra 10 minutes to transfer chip before using. 
| | | | |
| --- | --- | --- | --- |
| Cartridge Type | HP 414A black | HP 414X black | V4ink DIY 414X black |
| Page Yield | 2,400 pages | 7,500 pages | 7,500 pages |
| Price | $84.99 | $171.99 | $49.99 |
| Cost per Page | 3.5 cents | 2.5 cents | 0.67 cents |
How to transfer chip for v4ink DIY 414x Toner cartridge?
Here is a video to show you the steps. Or you could check the text instruction for better understanding.
To help you transfer chips easily, a set of special tools and a detailed user manual will be added to the package. The tools include a pair of tweezers, a pair of scissors and one chip recycle drill. Here are the steps for your reference.https://www.youtube.com/embed/9odBKsqJTUE
1. Take out the empty HP cartridge from printer and find the corresponding color of v4ink new toner cartridge and remove its package.
2. Install chip recycle drill into the chip slot of the HP empty cartridge and screw down the drill slowly until the chip becomes loose. Then remove the chip with the tweezers.
3. Roll back the drill and remove it from the cartridge.
4. Clean the plastics and glue on the surface of the chip with scissors.
5. Insert the chip into the new chip tray. Make sure it's in the correct direction.
6. Install the new chip tray along with the chip into the new v4ink cartridge.
7. Shake the v4ink cartridge from side to side and install it into the printer.
Note:
The chip should be from the correct cartridge. It means if you want to transfer chip for the black cartridge, make sure it's from the HP black cartridge. Don't mix the chip with other colors'.
If the new cartridge could not be detected by printer after installing the chip, make sure you have installed the chip correctly. Wrong direction or not aligning with the middle line of the chip slot may result in the problem.
The printer or computer may prompt "Cartridge is low" or this kind of message, you could disregard it and continue to print.
Any doubt about the instruction or about our products, please feel free to let us know. You also could contact us to apply for a free trial of our cartridge.
Article Source: https://www.v4ink.com/How-to-replace-HP-414a-toner-cartridge