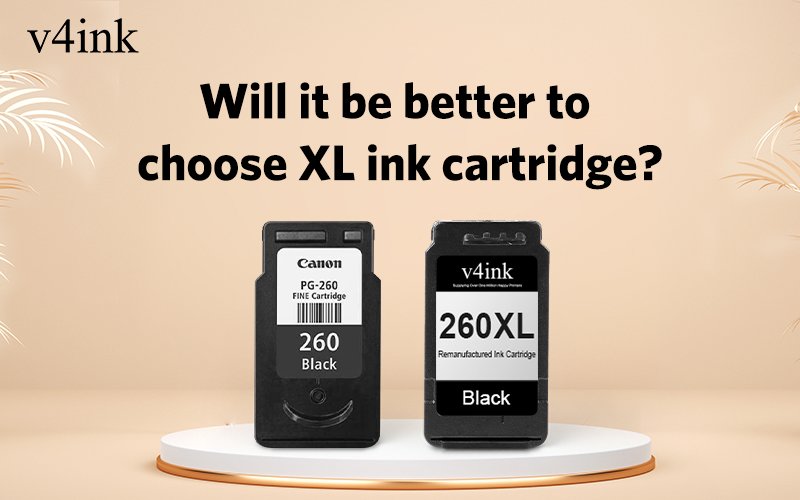 Basically, all toner cartridges / ink cartridges have standard and "XL" settings to meet users with different print volume requirements. But many people don't know what "XL" means? Does it just mean large capacity?
What is "XL" cartridge means?
"XL" means high yield, which is relative to the standard yield. XL cartridges usually have twice or more ink than standard cartridges and are cheaper than buying two standard packages. By looking at the cartridge packaging, you will find that XL can usually print 300 to 420 pages for most canon printers, while standard usually prints about 150 to 200 pages, depending on the model.
Common standard and"XL"cartridges
The writing methods of different standard cartridge and high-yield cartridge are not very similar, it's not just to add an "XL" after the standard model.
For example:
Canon PG-260 standard yield vs Canon PG-260XL high yield
Brother TN730 standard yield vs Brother TN760 high yield
Canon 057 standard yield vs Canon 057H high yield
HP CF500A standard yield vs HP CF500X high yield
Different cartridge models have different ways of representing standards and high yield. The actual situation needs to be determined in combination with the instructions of the printers.
What is the difference between standard and "XL" cartridges?
Let's take Canon PG-260 standard yield ink cartridge and PG-260XL high yield ink cartridge as an example.
As we all know, Canon PG-260XL is the high yield version of the Canon PG-260 ink cartridge. They are all black in color and can output high-quality documents. They look almost the same, but in reality they are very different:
| | | |
| --- | --- | --- |
| Cartridge model | Canon PG-260 | Canon PG-260XL |
| Color | Black | Black |
| Compatible printer | Canon PIXMA TR7020Canon PIXMA TS5320Canon PIXMA TS6420 | Canon PIXMA TR7020Canon PIXMA TS5320Canon PIXMA TS6420 |
| Price | $17.99 | $30.99 |
| Page yield | 180 Pages | 400 Pages |
| Capacity | 7.5ml | 14.3ml |
| Cost per page | 9.99 Cents | 7.75 Cents |
"XL" cartridge contains more ink, almost twice as much as the standard cartridge, but the cost per page is lower than that of the standard one. In other words, with the "XL" cartridge, you can get more printed pages for less money.
Is there the same thing of the standard and "XL" cartridge?
Yes, although "XL" cartridge contains more ink, but doesn't mean it's bigger. Standard and "XL" version have the same physical size and they're all installed in the same way. So they can be interchanged in the same printer. For example, Canon pg-260 can be interchanged with the Canon pg-260xl ink cartridge. 
Is it better to use "XL" cartridges than standard?
When you are looking for a cartridge, you usually want to get the most ink with your money. Therefore, "XL" cartridge has a higher cost performance, because it allows you to get more pages for less money.
But if you don't use your printer often, "XL" cartridge is not the most appropriate choice. For inkjet printers, if they do not print for a long time, the nozzle of the ink cartridge is easy to be blocked. A fully clogged cartridge print head won't print at all.
Therefore, the "XL" cartridge is only suitable for users who often print or print a large amount.
Are there any ways to save money besides using "XL" cartridges?
Of course! V4ink Remanufactured ink cartridge is also the best price alternative for you. You only need to pay a small part of the price of the original product to have the same effect and printing volume as the original product. And there is no need to worry about after-sales. V4ink gives you a 24 / 7 worry-free after-sales guarantee to ensure that you get the best experience in the process of using the product. You can also a get free trial before ordering from v4ink, click here to get details. 
Article Source: https://www.v4ink.com/Is-it-better-to-buy-XL-cartridges-than-standard