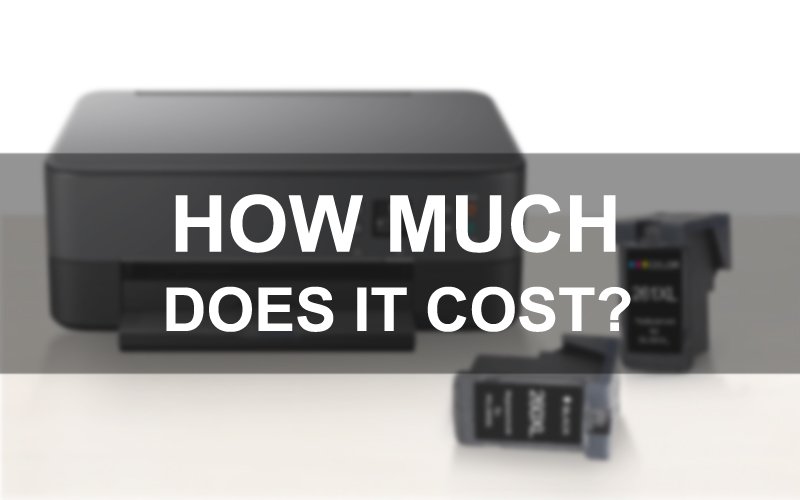 How much does it cost to use a printer? How many people have calculated this expenditure? Today, let's take Canon TS6420 as an example to calculate our printing cost!
Printer price
As we know, the cost of a printer first comes from the printer itself. On Canon.com, the retail price of Canon PIXMA TS6420 Black / White Printer is $139.99. This is quite cheap for inkjet printers. Most printer manufacturers don't mind selling you printers at a cheap price because they know that you need to buy ink cartridge in the future, and that's where they make a lot of money. Generally, the cheaper the printer, the higher the price of ink cartridges.
Maybe a single ink cartridge won't make you feel how expensive it is, but the supplier will specially manufacture some low-yield ink cartridges, which means that you need to replace the ink cartridge more frequently. In the long run, this will be a huge expense.
Ink cartridge cost
The next, let's talk about the ink cartridge cost in detail. The printing cost of an ink cartridge mainly depends on the page yield of the cartridges. The page yield of an ink cartridge determines its service life. The higher the page yield, the lower the replacement frequency and the longer the service life. On the contrary, if the page yield of an ink cartridge is low, it must be replaced more frequently.
What is the standard of page yield?
The page yield of different models of ink cartridges is also different. How is the page yield calculated? Does it have a standard? Yes, no matter what cartridge your printer uses, they all follow the same print volume standard, which is the international organization standard (ISO). ISO is an independent international organization responsible for formulating industry standards for products. The ISO page print volume standard for the printing industry was established in the early 2000s as a way for consumers to reliably measure and compare the print volume of printer manufacturers' cartridges.
The ISO standard has determined that the amount of pages printed by the ink cartridge is based on 5% page coverage.
What is that mean of 5% page coverage?
5% page coverage is equivalent to printing out a short email (as shown in the figure below). The page yield of all ink and toner cartridge is based on 5% coverage (A4 / letter). In other words, if the page yield of the ink cartridge is 180 pages list on the product page, it can print about 180 pages of text similar to the following figure. If the content coverage of the page you print is more than 5%, the number of pages printed by the ink cartridge will be reduced accordingly. This is why many people often tell us that the actual print volume of the cartridge does not match the listed page yield.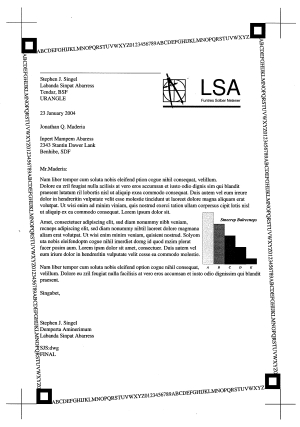 In addition to the coverage, document type and print quality settings also affect the actual print volume. If you want to print a full page of text or color photos, you will use more ink and the amount printed from the cartridge will be greatly reduced.
What is page yield and cost of the Canon PIXMA TS6420 cartridges?
Canon PIXMA TS6420 Printer uses Canon PG 260 Black ink cartridge and CL 261 Tri-color ink cartridge, High yield Canon PG 260XL Black ink cartridge and CL 261XL Tri-color ink cartridge.
The higher yield option is usually more expensive because it is filled with more ink, but if you print often, it is a better long-term value. As you can see in the tablet below, Canon PG 260 / CL 261 series does not print many pages. If you print a lot, you need to replace it frequently (which means that your printer operation cost will increase rapidly).
| | | | |
| --- | --- | --- | --- |
| Cartridge model | Cost | Page yield | Cost per page |
| Canon PG 260 Black | $17.99 | 180 Pages | 9.99 Cents |
| Canon CL 261 Black | $26.94 | 180 Pages | 14.97 Cents |
| Canon PG 260XL Tri-color | $30.99 | 400 Pages | 7.75 Cents |
| Canon CL 261XL Tri-color | $32.25 | 300 Pages | 10.75 Cents |
According to the above table, you can preliminarily calculate the cost of ink cartridges in a year. If you need to replace a PG 260 black cartridge per month, You need to spend $215.88 a year. If you use a high yield PG 260XL black ink cartridge, on the basis of the same printing amount, each cartridge can last for 2.2 months. That's to say, you only need 6 cartridges for a year, which spend $185.94 per year. You can save $29.94 per year and print extra 240 pages than using a standard yield ink cartridge.
How to save printing costs on ink cartridges?
As we know, original manufacturer will sell the printer at a low price and make a profit with the original ink cartridge. But ink cartridge is a necessity for printer users. How to minimize the cost of ink cartridge? v4ink provides you with a best price alternative for Canon PG 260 and CL 261 ink cartridges, which is a v4ink remanufactured High yield PG 260XL and CL 261XL combo pack.
Original Canon PG 260XL and CL 261XL combo pack cost $63.24, while v4ink remanufactured PG 260XL black and CL 261XL tri-color combo pack cost $55.98, which can save you $7.26 and provide you with the same printing pages and printing effect of the original cartridges.
What is remanufactured ink cartridge?
Remanufactured ink cartridge means that the original ink cartridge through recycled and refilled by making it reusable. After the original ink cartridge is used up, it is transported to the remanufacturer. The remanufacturer thoroughly cleans the original ink cartridge, replaces the worn parts with new parts, then fills it with new ink, and carries out strict quality test, so that the ink cartridge can be reused.
Did remanufactured ink cartridge damage my printer?
This is what users are most concerned about. Actually, remanufactured ink cartridge will not damage your printer. All v4ink items are auto-produced strictly under ISO 9001 and ISO 14001 STMC standard, make sure the products are 100% compatible with your printer.
How to prolong the service life of ink cartridges?
The following tips are suitable for all ink cartridges, if you want to save more on ink cartridge, you must master the following routine maintenance skills:
1) The ink cartridge should always be placed in the printer, otherwise the print head will dry and cause damage to the print head;
2) It is recommended to use ink cartridges at least once a week, which can reduce the cleaning times of the print head, improve the utilization rate of ink and prolong the service life of the print head;
3) When the printer displays "Cartridge Low", you need to prepare the new cartridge. When the printer displays ""Color Depleted" or "Use Black Only?" Stop printing and replace the new cartridge as soon as possible.
If you find any further questions during using Canon TS6420 printer or Canon PG-260 CL-261 ink cartridges, please feel free to contact us by email: support_team@v4ink.com or join our Facebook group to discuss with us.
Article Source: https://www.v4ink.com/How-much-does-it-cost-to-use-the-Canon-TS6420-printer