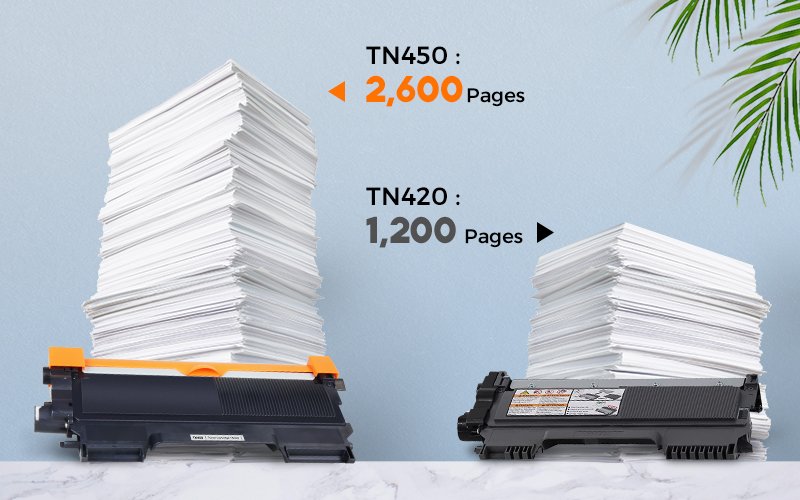 Brother laser printers are a popular choice in the market, so are the toner cartridges required for the printers. As one of the most popular black toner cartridges, TN450 and TN420 are in high demand. Buyers often don't know whether to choose tn450 or tn420 cartridge. Are they the same? What kind of relationship do they have, this article will give you a detailed introduction.
Compatible Brother Printers
Though TN450 and TN420 are the different models, they are the same appearance and are suitable for the same Brother monochrome printers:
DCP Printer Series:
DCP-7060, DCP-7060D, DCP-7065DN, DCP-7070DW, DCP-7055, DCP-7057, DCP-7055W
HL Printer Series:
HL-2130, HL-2132, HL-2220, HL-2230, HL-2240, HL-2240D, HL-2242D, HL-2250, HL-2250DN, HL-2270DW, HL-2280DW, HL-2275DW, HL-2135W, HL-2240N
MFC Printer Series:
MFC-7360, MFC-7360N, MFC-7460, MFC-7460DN, MFC-7860DW, MFC-7240, MFC-7365DN, MFC-7460N
FAX Printer Series:
FAX-2840, FAX-2940
Intellifax Printer Series:
IntelliFax 2840, IntelliFax 2940
What is the difference between TN420 and TN450?
Page Yield
The only difference between TN420 and TN450 is the number of pages printed. Brother TN-420 is a standard-yield toner cartridge and prints approximately 1,200 pages, while TN-450 is a high-yield toner cartridge and can print up to 2600 pages. Because TN420 toner contains less powder, TN420 toner cartridge is less expensive than TN450 cartridge.
| | | |
| --- | --- | --- |
| | Page Yield | Original Price |
| Brother TN420 toner | 1200 pages | $39.98 |
| Brother TN450 toner | 2600 pages | $58.49 |
Cost Per Page
From the Brother Price, TN420 cartridge is cheaper than TN450 cartridge. But their printable pages are not the same, so not the most accurate price comparison. Therefore, we calculate their cost per page uniformly and find which one is cheaper.
Brother TN420 standard yield toner cartridge:
$39.98/1200 pages = 3.3 cents
Brother TN450 high yield toner cartridge:
$58.49/2600 pages = 2.2 cents
From the results, the cost per page of TN450 high-yield cartridge is lower than TN420 standard-yield cartridge. If you print infrequently, you can save money with TN420 toner, but if you print frequently, we recommend TN450 toner as it has a better long term.
Ways to Save More on TN450 Toner Cartridges
If you are looking to save more on printing costs than Brother TN450 cartridges, we strongly recommend purchasing the v4ink TN450 Compatible High Yield Black Toner Cartridge.
| | | |
| --- | --- | --- |
| | Brother TN450 1 pack | v4ink TN450 1 pack |
| Product Price | $58.49 | $19.99 |
| Page Yield | 2600 pages | 2600 pages |
| Cost Per Page | 2.2 cents | 0.8 cents |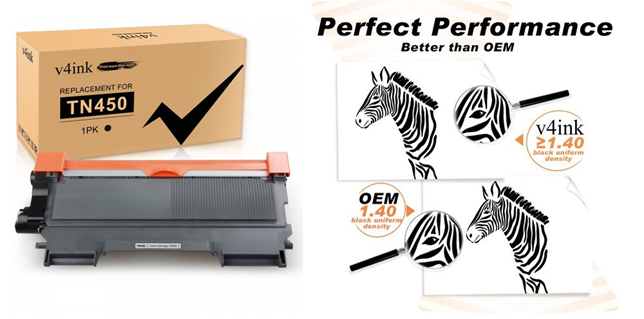 V4ink TN450 toner price is much lower than original TN450 toner, but the product is automatically produced in strict accordance with the standard, with firm fixing and clear printing, which is completely comparable to the original product.
Article Source: https://www.v4ink.com/The-difference-between-TN420-and-TN450-toner-cartridge