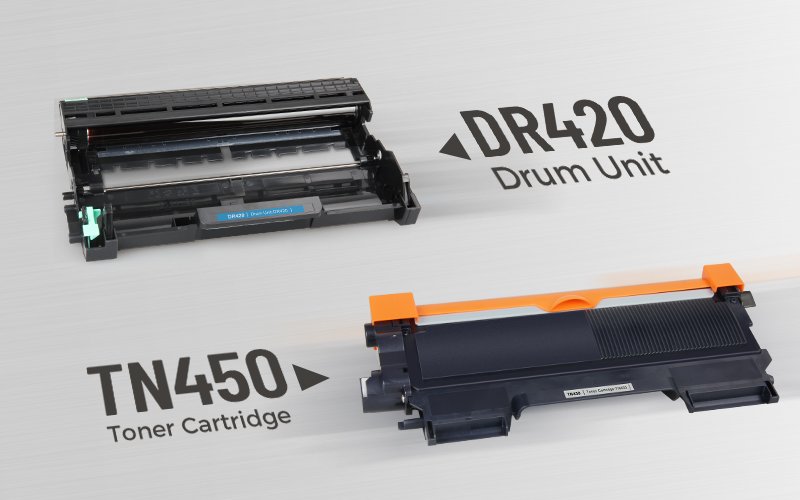 For Brother printers, toner cartridges and drum units need to work together to print and are purchased separately, which easily lead to you purchase the wrong model. In this article, taking the TN450 and DR420 as examples, I will show you the difference between the toner cartridges and drum units.
An Overview of Brother Toner Cartridges and Drum Units
Toner cartridges
The toner cartridge contains powder for printing text and images, and powder (toner) volume determines the yield of the cartridge, so the toner can be offered in a different yield cartridge size. Brother TN450 is the high-yield version of TN420, and the difference between them is that TN450 can print more pages.
Drum units
The drum is a shelf that holds the cartridge and then prints clear and vivid text and images by fixing the toner of the cartridge to paper. A drum unit lasts longer than a toner cartridge. The cartridge is replaced first, and the drum usually needs to be replaced after 3-5 cartridges are used up.
(Toner + Drum) Compo Pack
A toner cartridge is combined with a drum unit as a unit in your printer, so there are specific Brother Toners that are designed to fit into specific Brother Drums such as, TN450 with DR420, TN760 with DR730, and TN750 with DR720. They cannot be mixed, otherwise the size does not match and cannot be printed.

What is the difference between DR420 and TN450/TN420?
DR420 is a drum unit but TN450 and TN420 are toner cartridges. Brother DR420 like a shelf to support tn450 or tn420 cartridge, and Brother TN450 and TN420 contains toner to create printouts. We know that TN450 cartridges can print more than TN420 cartridges, but DR420 drum units have higher page yields.
| | | | |
| --- | --- | --- | --- |
| Consumable Model | TN420 | TN450 | DR420 |
| Type | Toner cartridge | Toner cartridge | Drum unit |
| Color | Black | Black | Black |
| Packing Quantity | 1 pack | 1 pack | 1 pack |
| Page Yield | 1200 pages | 2600 pages | 12000 pages |
| Original Price | $39.98 | $58.49 | $104.99 |
| v4ink Price | / | $19.99 | $25.99 |
| Shelf Life | 24-36 Months | 24-36 Months | 24-36 Months |
You can see that DR420 drum has longer service time than TN420 and TN450 toner cartridges because the page yield of the DR420 is almost 5 times of the TN450 and 10 times of the TN420.
But you will find that the original cartridge and the drum are expensive to be replaced. At this time, you can consider v4ink compatible TN450 cartridge and DR420 drum unit. They have same print yield but cost a lot less, so that v4ink doesn't need to sell standard yield TN420 toner. V4ink products are precisely designed to deliver clear and crisp printing result to satisfy your every need for an amazing range of colors experience.

When do the TN450 and DR420 need to be replaced?
If the printer prompts "replace toner" or the prints are gradually fading, you need to prepare a new TN450 toner cartridge. If blank spaces or streaks in printing, or the printer prompts "drum replace", the DR420 drum unit needs to be replaced.
Hope these information can help you better understand TN420 / TN450 toner cartridges and DR730 drum unit. If you have any questions about them, please contact us by email: support_ team@v4ink.com.
Article Source: https://www.v4ink.com/Brother-TN450-vs-DR420-what-is-the-difference