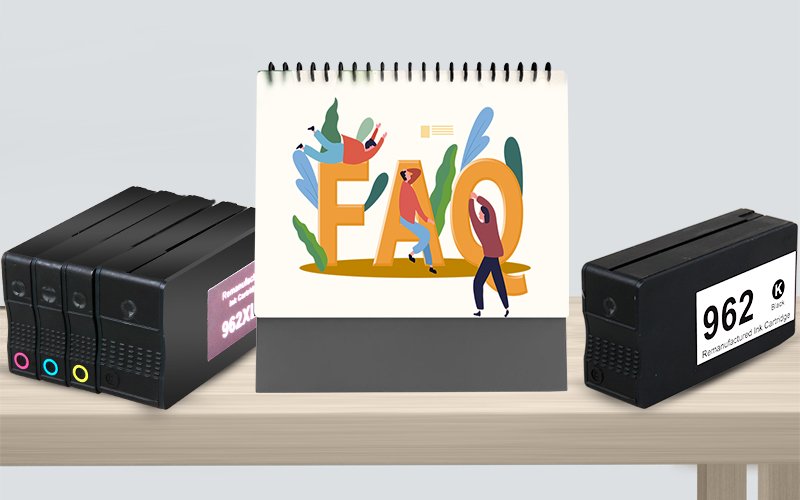 962xl ink cartridges are compatible with some popular HP Officejet series printers. But with so many HP Officejet printers, do you know if it is available for your printer? This guide covers everything you want to know about 962xl ink, so you don't have to be confused when buying. Let's start!
What is page yield of HP 962xl?
HP 962xl cartridges include four individual ink cartridges in four colors, 962xl black ink (3JA03AN#140), 962xl yellow ink (3JA02AN#140), 962xl magenta ink (3JA01AN#140), and 962xl cyan ink (3JA00AN#140). Except the black 962xl ink can print about 2000 pages, the yield is the same for the other three ink cartridges-1600 pages.
| | | | | |
| --- | --- | --- | --- | --- |
| | HP 962xl black(3JA03AN#140) | HP 962xl yellow(3JA02AN#140) | HP 962xl magenta(3JA01AN#140) | HP 962xl cyan(3JA00AN#140) |
| Print Color | Black | Yellow | Magenta | Cyan |
| Page Yield | ~2000 pages | ~1600 pages | ~1600 pages | ~1600 pages |
| OEM Price | $44.99 | $34.99 | $34.99 | $34.99 |
What HP printers use 962xl cartridge?
962xl ink cartridges are compatible with several printers in the HP OfficeJet series, which are OfficeJet Pro 9010, 9012, 9014, 9015, 9016, 9018, 9020, 9025, 9026, 9027, 9028, 9029, 902X printers.
Is 962 ink the same as 962xl ink?
Yes, 962 cartridges can be used in the place of 962xl as they have same size and work with the same compatible printers. But 962 cartridges print fewer pages than 962xl.
In addition to the 962 ink, 966xl cartridges also work with the printers that use 962 high-yield cartridges as 966xl cartridge is the extra-high-yield ink cartridge for 962 cartridges. It has higher page yields of 962xl, but the 966xl ink cartridge is only available in black.
| | | | | |
| --- | --- | --- | --- | --- |
| | Black ink | Yellow ink | Magenta ink | Cyan ink |
| HP 962 | ~1000 pages | ~700 pages | ~700 pages | ~700 pages |
| HP 962xl | ~2000 pages | ~1600 pages | ~1600 pages | ~1600 pages |
| HP 966xl | ~3000 pages | / | / | / |
Are HP 962xl and 952xl interchangeable?
No, although they look similar, 952xl and 962xl cartridges are not compatible with same printers. The cartridges have golden chips on them designed to recognize specific printers. Even though 952xl or 952 cartridges can be installed into the printers that use 962xl or 962 cartridges, the printer will show an error saying it can't work.
How long does HP 962xl ink last?
In general, HP ink cartridge can be stored for 18-24 months unopened, as do HP 962xl cartridge. And it also depends on the storage environment of 962xl ink itself. Its storage temperature range is -40 to 140°F, and storage humidity is 10 to 90% RH.
However, if the cartridge has been used, please refer to its page yield mentioned on the first questions "What is page yield of HP 962xl" of this article. Meanwhile, provided you don't use it frequently after installation, we recommend printing the "test page" every week to prevent the print head clogging.
Is there a way to save money on HP 962xl?
Yes, you can use the reliable third-party ink cartridges that offer significant cost savings and high-quality printouts. But there are countless cartridge compatible brands in the market so that you don't have idea to choose the right one. At this time, v4ink 962xl ink cartridges can meet your demand. It has the same page yield as original brand (Black: 2000 pages, Color: 1600 pages), and provides stable darkness for crisp printout.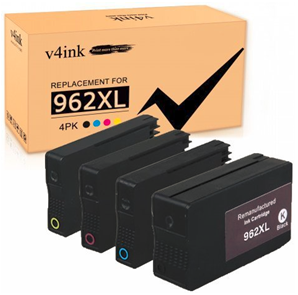 Besides, v4ink 962xl is the remanufactured ink cartridge, that is, the cartridge has both OEM and non-OEM parts. It is professionally remanufactured by original cartridge shell with a brand new chip. You can experience the original printing results with an affordable price using v4ink 962xl ink cartridges.
Article Source: https://www.v4ink.com/FAQs-of-HP-962XL-Ink-Cartridges