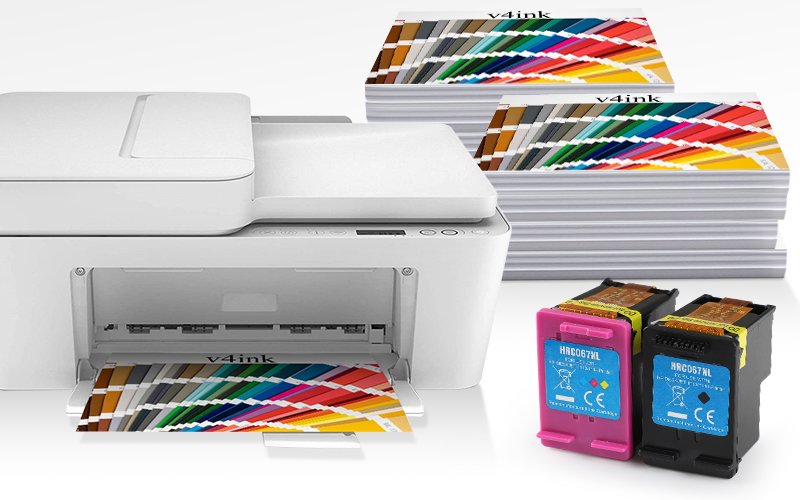 HP printer users notice that some ink cartridges are available in 'XL' version and more expensive than standard version. Do you know what 'xl' means and is it worth buying? Let's dig it to discover its secret.
Why a HP 'XL' ink cartridge more expensive?
An 'XL' ink cartridge means a high yield ink cartridge, which contains more ink and can print more pages than a standard ink cartridge. A HP high capacity ink cartridge has an "xl" after the cartridge number to indicate the amount of ink is much more. For example, HP 67xl ink is the high-yield version of HP 67 ink. So, it is common that the price of a high-yield cartridge is higher than standard ink cartridge in the market.
How many extra pages can a HP 'XL' ink cartridge print?
A high-yield ink cartridge produces 2-3 times the print volume of standard ink. But the exact page depends on different HP cartridge models. For example, HP 67 black ink prints 120 pages and HP 67xl black ink prints up to 240 pages, but HP 63 black ink prints 190 pages and HP 63xl ink can print up to 480 pages.
Is a HP 'XL' ink cartridge worth buying?
The answer is yes. As mentioned above, the cost of an 'XL' ink cartridge is higher than standard ink cartridge, but more ink is filled in high-capacity ink cartridges, which can print more pages. Therefore, the average cost per page of a HP high-yield ink cartridge is lower. It is a great option for frequent users and save money in the long term. But for people who do not print often and use a HP inkjet printer, it is better to buy standard ink cartridges as the ink is easy to clog in the nozzle.
| | | | |
| --- | --- | --- | --- |
| HP 67 Black series | Page Yield | OEM Price | Cost per page |
| HP 67 ink | 120 | $15.99 | $0.13 |
| HP 67xl ink | 240 | $23.99 | $0.10 |
Does a HP 'XL' ink cartridge fit in the same printers?
Guests sometimes worry about high-yield ink cartridges contain more ink whether the size will be different with standard ink cartridge. Absolutely not, the size of HP 'xl' cartridge is the same as standard cartridge and fit in the same compatible printers. For instance, HP 67 and HP 67XL ink cartridges are both suitable for following printers:
DeskJet 1255/2300/2722/2723/2724/2725/2755/2752;
DeskJet Plus 4122/4123/4132/4140/4152/4155/4158;
ENVY 6030/6032/6034/6052/6055/6058/6075;
ENVY Pro 6430/6452/6455/6458/6464/6475 Series
Are there cost-effective 'XL' cartridges?
V4ink remanufactured ink cartridge is the most cost-effective alternative. It is simple to install and highly compatible with suitable printers, and has same yield as original ink cartridges. Specially, v4ink InkSacs group, which includes HP 63xl, HP 65xl and HP 67xl, is worthy of attention. A v4ink InkSacs combo pack has 1 Ready-to-go ink cartridge (1 OEM print head + 1 Replacement ink cartridge), which can be directly installed in the printer, and 2 separate replacement ink cartridge. The replacement ink cartridges are covered by original print head to make sure print sharp text, bold blacks and crisp graphics, just like original cartridges, but at an affordable price.
Article Source: https://www.v4ink.com/Is-a-HP-XL-ink-cartridge-worth-buying