While you are purchasing an ink cartridge, you'll notice that there are three options available: Original, Remanufactured and Compatible. People are more familiar with original cartridges, but the difference between remanufactured and compatible is less clear. In this guide, we will popularize these three types of ink cartridges, so you can make an informed choice on your next purchase.
Original Ink Cartridge
Original cartridge is manufactured by a specific printer brand and used for that brand, so it also called original equipment manufacturer cartridge, i.e. OEM cartridge. It is specially designed by the original printer manufacturer to the exacting printing standards, and works exclusively with compatible OEM printers to produce flawless print outputs. However, it is stressful that ink cartridge needs to be replaced as OEM cartridges can be more expensive than a printer. To give people access to high-quality but lower-cost ink cartridges, some manufactures produce remanufactured or compatible ink cartridges to make a profit.
Remanufactured vs. Compatible Ink Cartridge
Remanufactured ink cartridges are products of recycling and refilling original ink cartridges. After running out of original cartridges, people have an option for recycling. These recycled cartridges are shipped to remanufacturers who order the used up OEM products and the ink cartridges are thoroughly cleaned, and quality checked to replace worn parts, and then filled with their new ink, installed in a printer for quality testing.
Because remanufactured ink cartridges use original casing and most of original materials, and are not created from a large of new components, the manufacturing cost is low, and buyer can also get them at an affordable price. Moreover, purchase remanufactured cartridges is good for environment by reducing the amount of plastic that goes into landfills.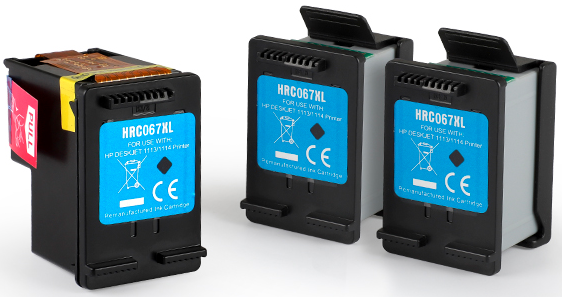 Compatible cartridges are brand new cartridges, not the same as remanufactured one. They are created and made by manufacturers other than original printer manufacturers, and are constructed differently from original cartridges in order to distinguish it from OEM products. Nevertheless, compatible cartridges are built on the compatible printers just like OEM cartridges, so the cartridges also fit into your printer and likely give you the same printing performance.
Remanufactured and Compatible Cartridges: Are they reliable?
Because of the high cost of original products, people are considering remanufactured and compatible ink cartridges while also worrying about whether they are as reliable as OEM products. You will notice that there are numbers of recycled or compatible brand in the market, which makes you tangle. Purchasing the cartridges from a reliable brand can help you get perfect print outputs.
At the moment, you cannot miss v4ink brand and its cartridges. v4ink is one of the largest online retailers of compatible, inexpensive toner and ink cartridges with high qualities. The brand v4ink started from scratch in 2013, but with effort and struggle, it has expands its own online shops in many regions and save a great deal amount of expenses for home and office printer users.
V4ink InkSacs groups are one of the most worthwhile products: they include 63xl, 65xl, 67xl remanufactured ink cartridges, which 100% compatible for your printers and printing effect are as good as OEM's. Take v4ink 67xl combo packs as an instance; you will get 1 Reusable OEM Print head (can be use together with the replacement ink cartridges up to 3 times) + 3 Black Replacement Ink Cartridges, 720 pages for $58.99. V4ink items allow you print more for less cost, reusability and less waste.
Article Source: https://www.v4ink.com/Original-vs-Remanufactured-vs-Compatible-Ink-Cartridges