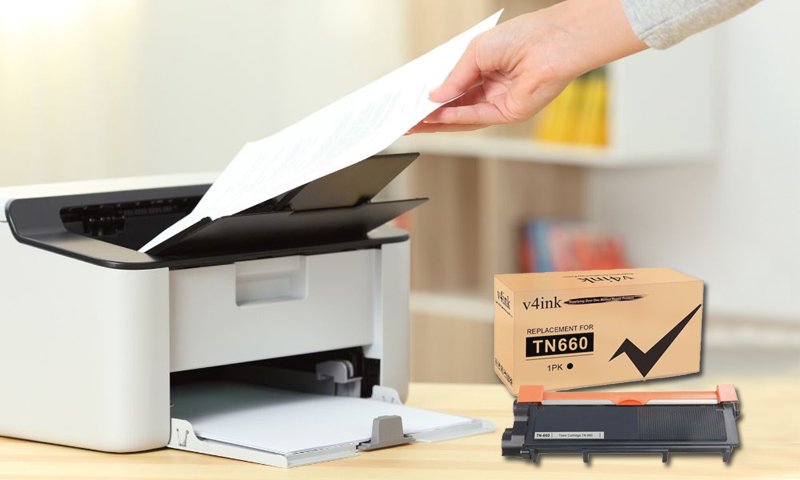 There are a variety of paper types on the market. Choosing the suitable paper can make full use of your printer, and can effectively avoid various problems to prolong the service life of the printer. This article will help you better understand the common issue of various paper and their main uses. Let's read on!
---
Common paper types
There are so many different types of printing paper, each of which has different uses and benefits. Here are some of the most popular print paper types:
Inkjet Printer Paper
This type of paper is designed for the specific purpose of inkjet printers. There are different forms of inkjet paper that can be used well with inkjet ink, including photos, glossy paper, business cards and greeting card variants.
Laser Printer Paper
Laser paper is best used with laser printers. This is more used for tasks such as printing documents, checks, and mailing labels in a business environment.
Matte
This paper is one of the most commonly used paper because it is suitable for all daily printing tasks. Matte paper has a white coating, which helps the ink dry faster than other paper types, that means it is suitable for documents that need it quickly.
Bright White
Bright white paper is smoother and no texture, so it is very suitable for high-quality and beautiful double-sided printing. The brightness of the paper ensures that it can be printed on both sides without ink on the other side.
Glossy
This paper type has traditionally been used to print images or photos rather than text because it can produce bright colors and clear images. The smooth surface absorbs ink and creates a clearer image than matte paper.
Card Stock
This strong, sturdy paper type is most commonly used in scrapbooks or printing business cards and postcards. Because it is much thicker than other types of printing paper, it is more durable and can be carried and carried without breakage.
Resume
It is slightly heavier than traditional paper and has a grayish white appearance. This type of paper is different from other forms of printing paper. Resume paper has ivory or cream color. It is often used in resumes or other important documents to show the importance of printed information.
---
Common paper size
What is the size of ordinary printing paper?
North American Sizes
The North American paper sizes are based on traditional formats with arbitrary aspect ratios. The most popular formats of the traditional sizes are the Letter (8.5 × 11 inches), Legal (8.5 × 14 inches) and Tabloid (11 × 17 inches) formats. You more than likely use these formats in your everyday life. Letter is the standard for business and academic documents. The Legal format is used to make legal pads, and the Tabloid format is commonly used to make tabloids or smaller sized newspapers.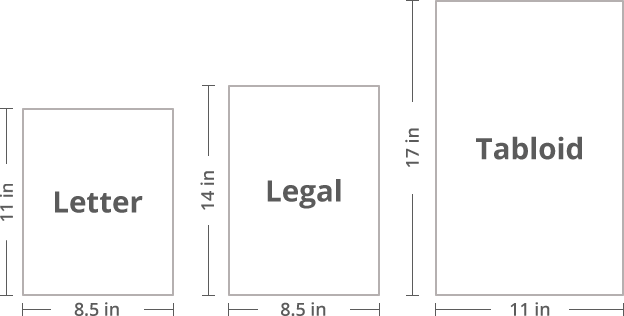 In addition to the paper types mentioned above, the following paper is also very commonly used:
| | | |
| --- | --- | --- |
| Paper Size | Width x height (inches) | Width x height (mm) |
| Letter | 8.5 x 11 inches | 216 x 279 mm |
| Letter Wide | 11 x 8.5 inches | 279 x 216 mm |
| Legal | 8.5 x 14 inches | 216 x 356 mm |
| Legal Wide | 14 x 8.5 inches | 356 x 216 mm |
| Tabloid | 11 x 17 inches | 279 x 432 mm |
| A3 | 11.7 x 16.5 inches | 297 x 420 mm |
| A4 | 8.3 x 11.7 inches | 210 x 297 mm |
| A4 Wide | 11.7 x 8.3 inches | 297 x 210 mm |
| A5 | 5.8 x 8.3 inches | 148 x 210 mm |
| B4 | 9.8 x 13.9 inches | 257 x 364 mm |
| B4 Wide | 13.9 x 9.8 inches | 364 x 257 mm |
| B5 | 6.9 x 9.8 inches | 176 x 250 mm |
| Executive 1 | 7 x 10.5 inches | 178 x 267 mm |
| Executive 2 | 7.25 x 10.5 inches | 184 x 267 mm |
| Executive 3 | 7.5 x 10.5 inches | 190 x 267 mm |
---
Common paper weight
In addition to various paper sizes, there are a variety of weights for different purposes.
The paper weight is usually measured in GSM. This represents "grams per square meter", a measurement of paper thickness or density, which is directly related to the medium quality.
The higher the GSM value of the paper, the thicker it is. As the description implies, it represents the weight (in grams) of a piece of paper 1 meter x 1 meter square.
Usually, the thicker the paper, the more durable the paper is. Therefore, different paper weights have different uses, and thicker paper is used for more industrial purposes.
Common printer paper weight
| | |
| --- | --- |
| 300GSM+ | Good quality business card, or heavy card media |
| 180GSM – 250GSM | Middle market magazine cover |
| 130GSM – 170GSM | Promotional posters |
| 80GSM | Standard issue day-to-day office matte white paper |
| 35GSM – 55GSM | Most everyday newspapers |
---
Precautions for using paper:
For best printing results, you need to pay attention to the following issues:
1. Do not load different types of paper in the paper tray at the same time, as this may cause a paper jam or misfeed.
2. In order to print correctly, you must select the same paper size as the one in the paper tray in the software application.
3. Avoid touching the printing surface of the paper immediately after printing.
4. Before purchasing a large amount of paper, test a small amount of paper to ensure that the paper is suitable for the machine.
5. Use labels designed for laser machines.
6. Appropriate paper needs to be used with a good printer cartridge to achieve the best printing effect.
V4ink provides you with the ink and toner cartridges with the quality closest to the original product, but the price is only 1 / 3 of the original one, which can save you more costs and output the best printing effect.
You can savings 80% ordering Brother TN660 toner cartridge on v4ink
In addition, you can also get the qualification to try v4ink products for free by submitting email and printer models. It is v4ink's goal to bring good experience to customers. Click here to get free trial.
Article Source: https://www.v4ink.com/How-to-select-an-appropriate-printing-paper-for-your-printer