A brand new v4ink HP 902XL Ink Cartridge 4 color set usually contain 1 black, 1 cyan, 1 yellow and 1 magenta ink cartridges. It can print up to 825 pages per black and color ink cartridge 5% coverage(Letter/A4), which page yield is the same as OEM products.
It's very convenience that you can replace any color as needed. If the black ink cartridge is running low, you can just replace the black one (Same for other colors).
Here, we will show you step by step instructions on how to install the v4ink HP 902XL ink cartridge into the HP OfficeJet Pro 6978 Printer.
Step 1: Make the cartridge upside down for 1-2 minutes.
Step 2: Remove the orange protective cover from the cartridge.
Step 3: Install the cartridge into the printer.
Step 4: Please don't touch the chip during installation.
After installation the compatible ink cartridges, if the printer shows that "Non-HP Cartridges installed. HP cannot guarantee the quality or reliability of non-HP supplies", you can press 'OK' to dismiss this prompt.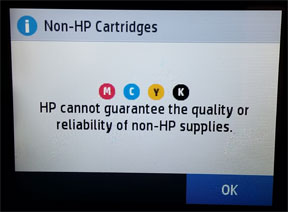 Additional alert messages, such as "Used HP Cartridge", "Non-Genuine Cartridge", "Non-HP Cartridges" or "Counterfeit / Fraud" may also display. You can also press 'OK' or 'Dismiss' to bypass these prompts.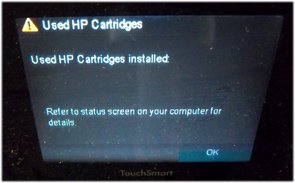 Article Source: https://www.v4ink.com/How-to-install-v4ink-HP-902XL-Ink-Cartridge