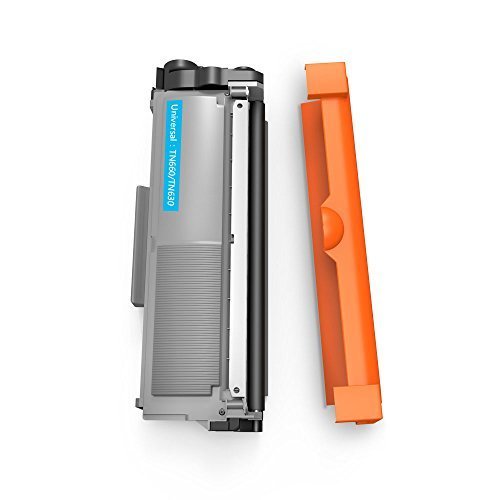 V4ink compatible Brother TN660 Toner Cartridge is professionally engineered to meet or exceed OEM standards. It offers a printing yield of up to 2,600 pages at 5% Coverage, and compatible with several Brother printer models, here's the compatible printer list:
DCP Series: DCP-L2520DW, DCP-L2540DW, DCP-L2500D;
HL Series: HL-L2360DN, HL-L2300D, HL-L2340DW, HL-L2360DW, HL-L2380DW, HL-L2320D, HL-L2315DW, HL-L2365DW;
MFC Series: MFC-L2700DW, L2720DW, L2740DW, L2707DW, L2680W, L2685DW, L2700DN, L2705DW.
Cartridge specification:
The Brother TN630 is a standard yield toner cartridge, which prints 1,200 pages per cartridge. The Brother TN660 is the high yield version of the TN630, which prints 2,600 pages and offers a better overall value if you print frequently.
Both cartridge types are applicable to any printer listed in our list of compatible printers. The only difference between them is the amount of toner contained in each cartridge.
You should also be noted that both of them must be used together with the DR630 Drum Unit which doesn't need to be replaced as frequently as the toner cartridge. The drum unit usually only needs to be replaced after about 3-5 toner cartridges have been replaced.
TN630 Standard Yield Toner
Page Yield: 1,200 Pages
TN660 High Yield Toner
Page Yield: 2,600 Pages
DR630 Drum Unit
Page Yield: 12,000 Pages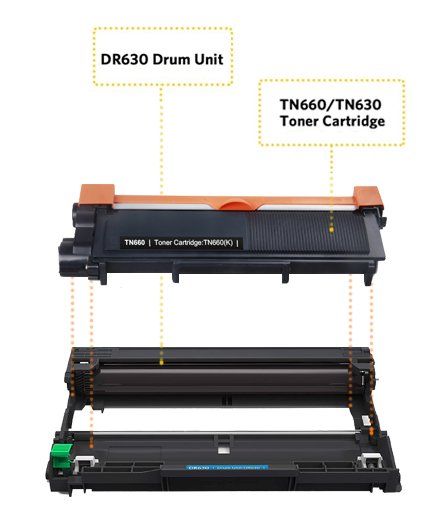 When do we need to replace the toner cartridge?
If the printing color becomes faded, or when your printer tells you "Toner Low" or "Replace Toner", it's time to replace your toner cartridge. Users with average printing volume generally need to replace the toner cartridge every 3-4 months, and users with large printing volume may need to replace it more frequently.
How to save on Brother TN630/TN660 Toner Cartridges?
The price of original toner cartridges is generally very expensive, so that the price of buying several toner cartridges is often higher than that of buying a new printer. Is there any way to save the cost of toner cartridges?
If you want to save printing cost, please consider purchasing v4ink brand compatible TN660 Toner Cartridges. It is an excellent low-cost alternative to the original brother products. They can not only provide the same yield of printing as the original, but also provide high quality printing effect, and the cost is only 30% of the original's.
How to replace/install v4ink compatible toner cartridge?
Is the v4ink compatible TN660 toner cartridge easy to install? The installation method of v4ink compatible TN660 toner cartridge is basically the same as that of the original one, and v4ink compatible toner cartridge can be used with the original drum unit.
Here is a step by step guide on how to replace/install v4ink TN660 Toner cartridge in your Brother printer:
Step 1 – Turn on your printer and open the front cover.
Step 2 – Take out the toner cartridge and drum unit assembly.
Step 3 – Push down the lock lever and take the used toner cartridge out of the drum.
Step 4 – Unpack the new toner cartridge. Gently shake it from side to side to distribute the toner.
Step 5 – Remove the protective cover.
Step 6 – Insert the new toner cartridge into the drum unit until locks into place.
Step 7 – Gently side the tab from right to left and left to right several times to clean the corona wire. Return the tab to the home position.
Step 8 – Install the toner cartridge and drum unit assembly into the printer.
How to reset v4ink compatible toner cartridge?
Sometimes, your printer may tell you the cartridge is empty or not recognized when you just finish install a brand new cartridge. You will need to reset TN660 toner cartridges manually. You can also follow the video step by step to reset your TN660 Toner cartridge:
We hope you found this guide helpful. If you have any questions about your toner cartridge or your drum, please contact us freely by email: support_team@v4ink.com.
Article Source: https://www.v4ink.com/how-to-install-TN660-toner-cartridge