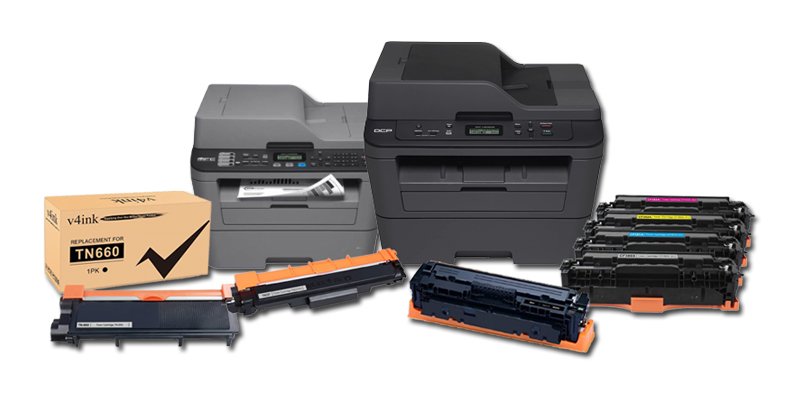 Have you ever searched the relevant toner cartridges corresponding to your printer on Amazon? If yes, you will find that in addition to the original toner cartridges, there are many other brands, and there are often great differences in prices between them. The price of some cartridges is almost higher than that of a printer, but the price of some cartridges will be several times lower than that of other cartridges. You may feel confused. Let's remove your doubts today!
As we all know, there are usually two kinds of printer cartridges, one is ink cartridge and the other is toner cartridge. Today, we will talk about the difference and how to choose between original, remanufactured and compatible toner cartridge. If you use ink cartridge, click here >> Name Brand vs. Third-Party Printer Ink Cartridges to get relevant content.
---
Let's start with the differences!
Original Toner Cartridge
Original printer manufacturers spend a lot of money on the research and development of their printers and cartridges, which increases the cost of the toner cartridge themselves. Branded toner cartridges are usually more expensive than third-party (compatible and remanufactured) toner cartridges, but they are more reliable and with more secure product quality.
Remanufactured Toner Cartridge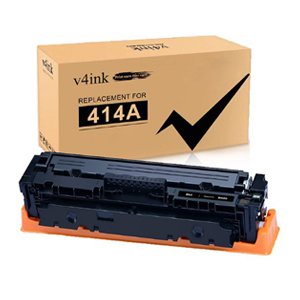 One of the main alternatives to original ink cartridges is remanufactured ink cartridges. This is actually a good way to recycle the original cartridge and take care of the environmental protection. Remanufactured toner cartridge use both OEM and non-OEM parts. The third-party manufacturers will recycle the used OEM cartridge and then clean and refill it with new toner. They will also check them for any faults after refilling. If there is any defective problem, they will fix and replace to guarantee the quality of the products. Remanufactured toner cartridges also make up for the shortcomings of compatible toner cartridges. For example, some compatible toner cartridges come without chip and can only be used by replacing the original chips. This is the case with 414A compatible (No chip) toner cartridge. However V4ink Remanufactured HP 414A toner cartridge comes with a chip, which is convenience and also eco-friendly.
Compatible Toner Cartridge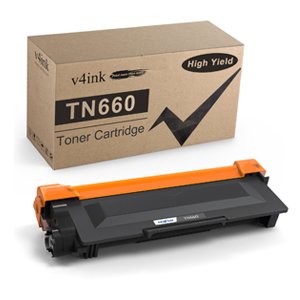 If you are looking for cheap toner cartridges but want to always get high-quality printing results, you will encounter compatible toner cartridges. Compatible toner cartridges are made by third-party manufacturers (non printer brand manufacturers). All parts of the compatible toner cartridges are brand new and have the same service life as the original toner cartridge.
V4ink compatible toner replacement for the high yield TN660 costs 70% less than the original (OEM) and is proven to deliver the same or more toner than the original toner cartridge and provide high-quality prints you need.
---
Frequently Asked Question:
Is the original toner cartridge better than compatible or remanufactured?
Not really! Compatible and recycled products are specially made for a printer, so they can be installed normally and perfectly compatible with your printer equipment. The original ink cartridge will fail from time to time. Therefore, no product is absolutely perfect, only what is really suitable for you.
---
Are the page yield of the remanufactured and compatible toner cartridge the same as the original?
Yes, but not completely. The page yield of the remanufactured and compatible toner cartridge is the same and even more than the original.
When the supplier refills the toner, it will usually fill more toner than the OEM to ensure that the printing volume is not less than that of the original product. This allows you to use them longer. Of course, since the toner is not original, the printing quality is effected by the toner used by the third-party manufacturer. Therefore, selecting a reliable third-party manufacturer, such as v4ink, can obtain better printing effect.
---
Is the output effect of the remanufactured and compatible toner cartridge lower than the original?
The remanufactured and compatible toner cartridges does not mean a decline in quality. The cartridges from reputable suppliers will provide print quality similar to brand cartridges. For example: v4ink TN660 toner cartridge is under ISO 9001 and ISO 14001 STMC standard, with over 1.40 black uniform density, which is clear and sharp, same or even better than OEM.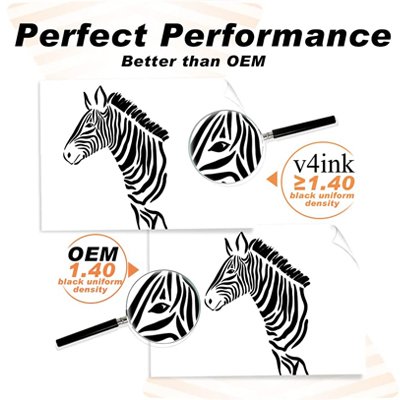 ---
Why are compatible and remanufactured toner cartridges cheaper than the original?
As mentioned above, original printer manufacturers spend a lot of R & D costs on printers, but they do not make money from printers. They usually sell printers at a lower cost because they believe that customer have purchased their printers and must will purchase their toner cartridges to continue to use. Since the toner cartridge must share the cost of the printer, the price of original toner cartridges is so expensive, and even some toner cartridges are more expensive than printers.
Unlike original manufacturers, compatible or remanufactured manufacturers do not need to spend money and technology on the R & D of the printers, so their toner cartridge products do not need to share the cost of the printers, and their prices are often more reasonable. In v4ink, our main focus is to provide customers with high-quality products at reasonable prices.
---
Where is the best place to buy the toner cartridges?
This depends on the type of toner cartridge you are going to purchasing. Many offline stores (like: Walmark, Staple) and online enterprises (like: v4ink, Amazon) provide remanufactured and compatible toner cartridges. You can choose either, but be sure to check their warranty and return policies so that you can repair, replace, or return cartridges if necessary.
---
How can I be sure that the compatible toner cartridge will fit my printer?
All you need to do is check which types of toner cartridges are compatible with your printer. For example, on the v4ink website, you can search for cartridges by printer model, which makes it easier to select the right cartridge for your equipment. In addition, if you accidentally order the wrong items, some enterprises, including v4ink, allow you to replace the ink cartridge.
---
Original vs Remanufactured vs Compatible, how should I choose?
Your First Choice – Original toner cartridge
If you are the fresh man of the printer and toner cartridge, original toner cartridge is your first choice. There is no need to consider the compatibility of original products and worry about after-sales service. Just buy them.
Your Affordable Choice – Compatible toner cartridge
If you have been using the printer for some time and are looking for an affordable alternative to the original toner cartridge, the compatible toner cartridge will be your best price choice. In v4ink, the price of compatible toner cartridges is only 1 / 3 of the original price. Our products also under ISO 9001 and ISO 14001 STMC standard and the printing effect is the same or even better than OEM.
Your Eco-friendly Choice – Remanufactured toner cartridge
If you advocate environmental protection and pursue recycling, remanufactured toner cartridges will be your best choice. The remanufactured toner cartridge is refilled with new toner on the basis of the empty toner cartridge and some damaged parts are updated. The product can not only be used normally, but also the price is lower than the original.
V4ink provides you with high-quality compatible and remanufactured toner cartridges at an affordable price. You don't need to look everywhere, v4ink will be your best choice besides the original toner cartridge.
V4ink also provides you with 100% satisfaction guarantee. If you find that the quality of our product is not satisfactory, we will replace your toner cartridge or refund you within the warranty period.
Article Source: https://www.v4ink.com/How-to-choose-toner-cartridge-between-Original-Remaufactured-and-Compatible