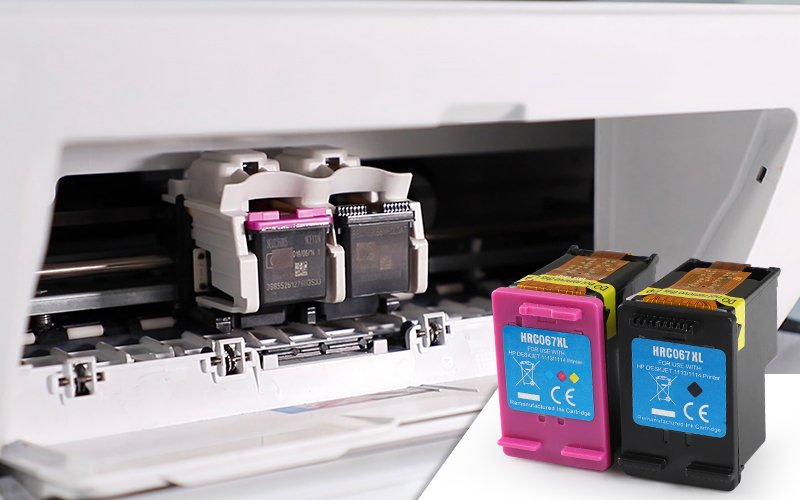 67xl ink cartridges are widely used in HP printers, and offer clear black & white or vivid color printout copies for home and office. Read this guide, we will show you the ink cartridge how easy to install or replace and provide the troubleshooting.
HP 67xl Ink Specifications
HP 67XL ink cartridge has black and color, two series. 67xl black cartridge uses pigment-based ink for printing volumes of documents or photos and is dry-resistant, and its ink drop is 17.9pl. The other, 67xl color cartridges has cyan, magenta and yellow colors, and is filled in dye-based ink, which offering bright and vivid color. If you are interested in pigment-based ink and dye-based ink, welcome to jump to our article "HP 67XL Cartridge Contains Pigment Ink or Dye Ink".
What is the lifespan of HP 67xl ink?
67xl ink is the high-yield version of HP 67 ink (Black prints 120 pages; Tri-color prints 100 pages), but 67 black high-yield ink can print up to 240 pages, and the tri-color one prints 200 pages. And the shelf life of 67xl ink is 18 months, the longest is 24 months.
How do we install HP 67xl ink?
The installation guide is suitable for the same original 67xl compatible printers:
HP Envy Printers: Pro 6430, Pro 6452, Pro 6455, Pro 6458, Pro 6464, Pro 6475 series.
HP Deskjet Printers: 1255, 2300, 2722, 2723, 2724, 2725, 2755; Plus 4122, Plus 4123, Plus 4132, Plus 4140, Plus 4152, Plus 4155 series.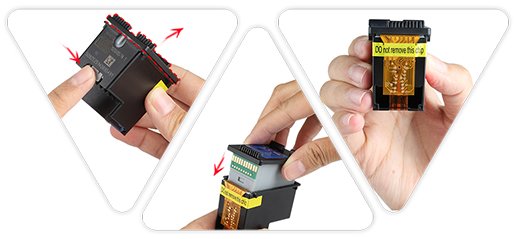 Simply put, it takes 3 steps to install 67xl ink cartridge, and the guide also applies to HP 67 ink.
Step 1: Remove the protective cover of the ink cartridge
Step 2: Remove the sealing tape
Step 3: Install the ink cartridge into the printer.
How to save more on HP 67xl ink?
Are you finding a cost less but excellent substitute to HP 67 high-yield cartridge? We highly recommend v4ink 67xl remanufactured ink cartridge combo pack, which has 1 Ready-to-go ink cartridge and 2 separate ink cartridge, i.e. 3 cartridges in total to reduce purchases. And the 67XL InkSac Combo prints a total of 720 pages, with clear text and vivid pictures, and the price is only $58.99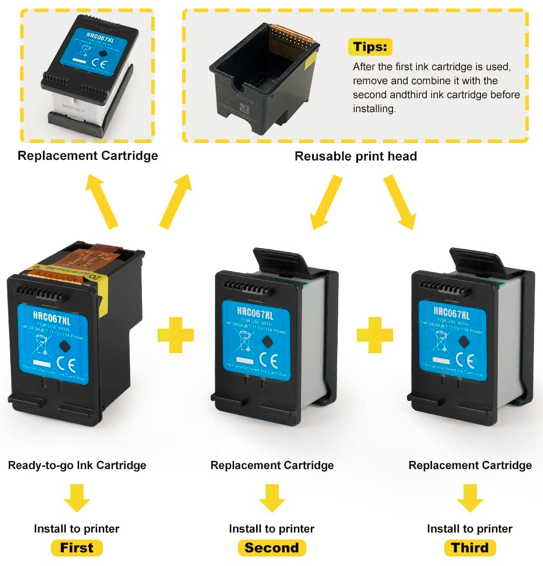 How to replace 67xl ink cartridge?
67xl remanufactured ink has a OEM print head, which cannot be thrown away until run out of all ready-to-go ink cartridges as the 2 separate cartridges need to be assembly with the reusable print head. The operation of replacing the cartridge also only requires 3 steps:
Step 1: Press the "Push" button, take out the used ink cartridge, and keep the reusable print head.
Step 2: Put the new ink cartridge into the reusable print head (Note: Please confirm whether the chip is inserted in the correct directions)
Step 3: Install the ink cartridge into the printer.
If you want a more intuitive tutorial, please refer to the following video:
How to deal with unrecognized issue of HP 67xl ink?
When your printer cannot read 67xl ink cartridge, please check whether the chip is inserted in the correct directions, and then use an eraser to gently wipe the chip.
Article Source: https://www.v4ink.com/Complete-Installation-Guide-for-HP-67xl-Ink-Cartridge