As HP 414A toner cartridge needs to work with a smart IC chip, but most of the compatible cartridges currently available on the aftermarket are without chips, which means you will need to prepare chips yourself for the new cartridges if you decide to buy the economic alternatives.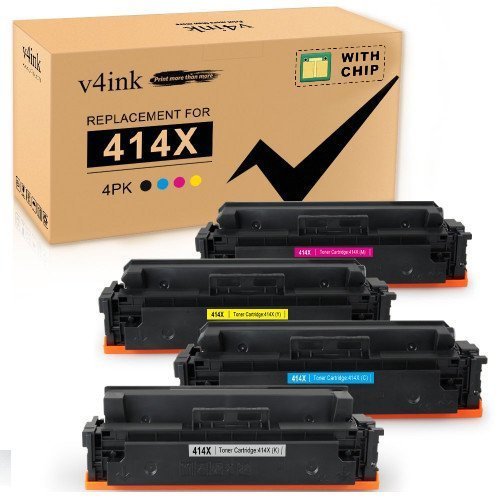 However, do you know where to get the chips? How to install them? Anything special we need to know before starting? Here let's show you the details.
If you have ever done a reach for this product, you may find the individual chips are scarcely available on the market. But we can get the chips from 414a empty toner cartridges and these three types of toner cartridges come along with chips.
HP 414A OEM toner cartridge
When you purchase a new printer, you can get a set of sample cartridges. If one of the toner cartridges runs out, remember to remove the chip and properly keep it before discarding the cartridge, as you may get a chance to use it when you purchase a 414A compatible toner cartridge without a chip.
HP 414A OEM toner cartridge comes along with an OEM chip. If you plan to use an OEM chip in a 414a compatible toner cartridge, it can usually be reused 3-4 times. When you find the print quality declines, it may be time to transfer a new chip. The following is the instruction of how to transfer a chip to a new toner cartridge.
HP 414A remanufactured toner cartridge
These cartridges are recycled from OEM cartridges which also contain OEM chips. If you do not want to buy the expensive original cartridge, v4ink HP 414A toner cartridges will be a not bad choice. They can save you a lot and the chips are also reusable. But kindly note that recycling times of the chips may reduce to 2-3 times as they have been used before. The installation of transferring the chip is the same. Please refer to the above video for details.
https://www.youtube.com/embed/9odBKsqJTUE
V4ink HP 414X new compatible toner cartridge with chip
V4ink has released a new compatible cartridge recently: v4ink HP 414X new compatible toner cartridges. Unlike the above two cartridges, these released ones contain new chips which were independently developed by the 3rd party. It means you can receive a full life span from the high capacity cartridge at an affordable price but also get a set of reusable chips.
How to recycle the newly released chip?
The physical size and working principle of the newly released chip are different from those of OEMs. It's bigger and contains a tinny battery on the circuit board. If you plan to transfer the chip to a new cartridge, make sure not to touch the tinny battery during operation. Or you'd better prepare some anti-static rubbers and put them on your thumbs and index finger before you start.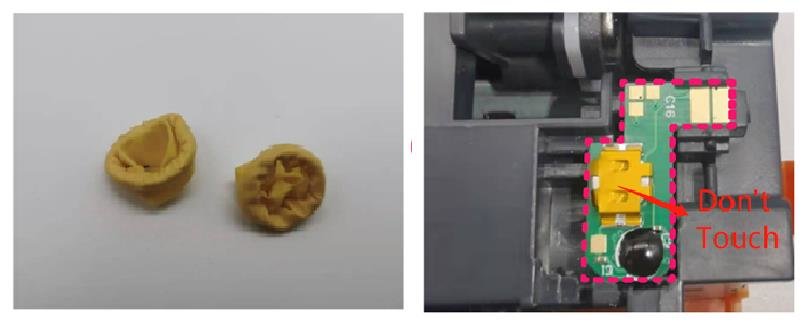 Here you could follow the instruction below to transfer the chip into the new cartridge:
Take out the new cartridge and find the chip slot.
Put on the rubbers on your fingers and remove the chip from the old cartridge.
Insert the one end of the chip (Refer to A) into the slot.
Push another end of the chip into place, and press it down to let the chip sit properly.
Warm Tips:
a. Do not touch the tinny battery.
b. Make sure the chip was located at the end of the slot and there is no gap.

Can we use a HP 414A chip in a 414X toner cartridge?
Yes, these two types of toner cartridges can share a chip but it would not display the actual ink level. Your printer may pop up messages to remind you "Cartridge is low" since it still keeps the memory of the last empty cartridge. But there is no need to worry about it, it would not affect the normal operation of the machine. When you find this message, just press "OK" and continue to print.
Is a chip from a 414a black cartridge reusable for a 414a magenta cartridge?
No, different color toner cartridges could not share a chip. If you plan to transfer a chip for a 414a black cartridge, make sure the chip is from a black cartridge either 414A or 414X is ok. Otherwise, your printer may not work.
Article Source: https://www.v4ink.com/Where-to-get-a-HP-414A-chip