Nowadays there are different types of toner cartridges remarking "with the upgraded chip" or "without chip"? What does it mean? What is a cartridge chip used for? Can we use a toner cartridge without a chip? As one of the users of LaserJet printers, these questions may ever confuse us or sometimes lead us to make a wrong decision when purchasing a toner cartridge. If so, this article will help you find the answers.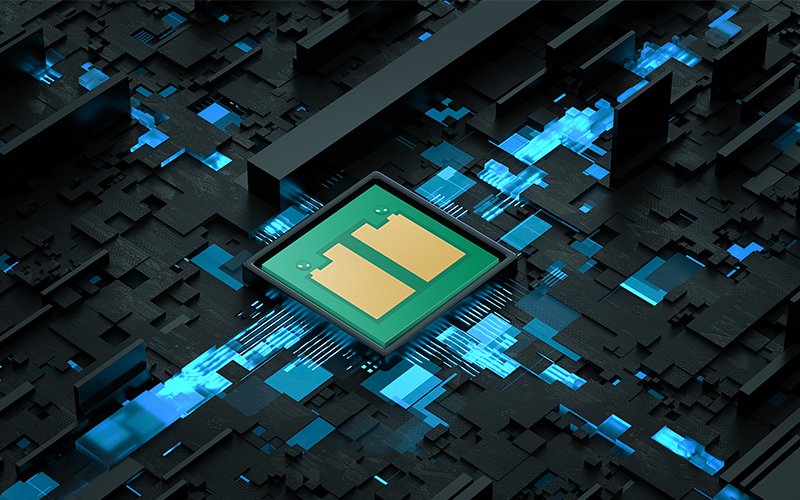 What is a cartridge chip used for?
A cartridge chip physically is a small circuit board. It's just like an ID (identity card) for each toner cartridge which is used to record the product model information, print capacity, the remaining ink level, etc. In another word, this small circuit board works as a medium for storing and transferring chip information to printer which enables the cartridge to be detected and reminds users to replace toner when cartridge gets low.
Besides recording product information, these tiny chips have also been put to use to resist Non-OEM supplies. Sometimes, the original equipment manufacturer would upgrade or encrypt the chip to make the machine only recognize its own consumables. For example, if you're the owner of HP color laserjet m479 or m454 series printer, you may find many generic cartridge sellers remarked the products are without chips.
What should we do for an HP cartridge without a chip?
For these no-chip cartridges, it requires users to properly keep the OEM chip and install it into the new cartridge before using it. The following is the list of the special printers. When you're going to purchase a compatible toner cartridge for these printers, please pay attention to the product description and make sure you still keep the OEM chip before you decide to purchase a no-chip cartridge.
HP LaserJet Pro M404dw M404dn M404n M404 M428fdn M428fdw M428dw M428 Printer
HP Color LaserJet Pro MFP m479fdw m454dw m454dn m479fdn m479dw
HP Color LaserJet Pro MFP M283fdw M283cdw M283 M282nw M255dw M255 Printer
HP Color LaserJet Pro MFP M182n M183fw printer
For each printer above, now v4ink can offer an affordable alternative to HP expensive toner cartridge. You could find the corresponding toner cartridge on our website by searching your printer model number and save more than a half by choosing v4ink products.
For example, a 4-pack of HP original 414a toner cartridge for HP m479 or m454 series printer costs $414.66, nearly the price of an HP M454dw printer $489, while you can save up to 70% by choosing v4ink DIY 414a compatible toner cartridge. V4ink offers a 4-color set of 414a standard cartridges at $105.99. Or you could choose the high yield version 414x at $135.99.
To help you transfer chip smoothly, each DIY toner cartridge will come along with a set of special tools (the special tools may vary depending on the cartridge model) and detailed instructions. You could find the video for better understanding. Here are tips for you while you process with a DIY toner cartridge.
Why your HP printer could not recognize the new toner cartridge?
Make sure you have installed a chip for the cartridge.
Verify the chip if it's a multi-color toner cartridge.
The chip should be installed in the correct direction and align with the chip slot.
Treat the chip softly when installing, scratch or dirt may result in an error message.
If your printer or computer just reminder "Cartridge is low" but the output is good, you could disregard the error message and continue to print as usual.
Does a Brother toner cartridge have a chip?
Since different brand printer manufacturers have used different technologies in their products, in comparison with HP using a chip, Brother applied with dozens of patents in its consumables to protect the supply chain. This brand owner chose to use the counter gear and other patents in the cartridge to monitor the remaining print pages. For most Brother toner cartridges, there is no chip. But there is an exception. TN760. It indeed requires a chip. So when you purchase a toner cartridge for this model, please verify it comes along with a chip.
But you don't have to worry about this when you purchase from v4ink. Now all of the TN760 toner cartridges from v4ink are with an up-to-date chip which is compatible with your printer with the latest firmware. And you could save up to 80%by choosing the v4ink TN760 toner cartridge.
What we should do if a Brother printer reminds "Toner low" even though we replaced a toner cartridge?
As a Brother printer user, you may meet this problem. It may occur when you install the cartridge but don't power off the printer.
Please don't worry. You could reset the toner cartridge by turning around the counter gears and solving the problem by yourself. Here we added instructions for resetting TN760 toner cartridges for your reference.
You could also search the instruction for other models on www.printerFAQ.net
Article Source: https://www.v4ink.com/Can-we-use-a-toner-cartridge-without-a-chip